Mark Moore: Making Masters Possible
A coach who is a leader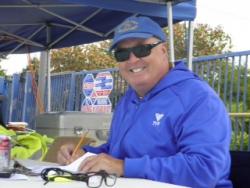 Mark Moore attended San Gabriel High School in Southern California, and swam on the varsity swim team for four years.
Mark's coaching career started in 1978 coaching summer league, age group, and high school teams in the San Gabriel Valley area.
He started swimming Masters after registering his children, ages five and seven, with the Mission Viejo Nadadores in 1995. In 1996 he was asked to take over the evening Mission Viejo Masters workouts, five nights per week. There were only about six swimmers at that time. Mark's goal was to build a community program that would meet the needs of every level of adult swimming.
The team grew rapidly because of Mark's basic philosophy of lifelong fun, fitness, and a competitive spirit. With his advanced degree in sports psychology, Mark was able to assess the physical, mental, emotional, and social needs of his swimmers; and his goal of team unity and individual excellence was firmly integrated into every aspect of the program.
Mark won his first SPMA "Coach of the Year" award for 2003, and followed the amazing honor again for 2004. That same year, attending his first convention, he received the USMS Dorothy Donnelly Service Award for meritorious service and was selected to be on the coaching staff at the 2004 FINA Masters World Championships in Riccione, Italy. In 2005 he received the coveted USMS National Coach of the Year Award.
Mark has been active in the sports community as well as in Masters swimming. By 2006 Mark had achieved certification as an ASCA Masters Level 5 Coach. Level 5 is composed of the top 2-5% of coaches in the USA. In 2008 Mark was the head coach at the 2008 FINA Masters World Championships in Perth, Australia. He also received SPMA's Jim Marcus Service Award that honors the person who has made outstanding contributions to Masters swimming. These contributions include support and leadership, recruitment of members, program development, and promotion of Masters swimming at the club, association and national level.
In 2007 Mark accepted the position of Masters Editor for SWIM overseeing all Masters content published in Swimming World Magazine. He has not only been featured in Swimming World magazine but also USMS Swimmer magazine. Mark is a member of several sports associations, as well as having been elected as vice-chair SPMA Mark also chaired the USMS Championship Committee from 2005 to 2010 and served on the USMS Coaches and Planning committees.
The Mission Viejo Nadadores have hosted many regional championship meets with Coach Mark as the meet director. In addition, Mission Viejo has three other meets each year, the Patrick Moore Memorial Long Course Relay meet, the Mission Viejo Nadadores Short Course Meters meet, and a long course meet in March for which Mark is the meet director.
Coach Mark was the meet director for the 2005 USMS LCM National Championships hosted by Mission Viejo Nadadores.  It was hailed as the best Long Course Nationals in 20 years.
In 2010 Mark was awarded the U.S. Masters Swimming National Championship Meets Award. The award honored him for his outstanding leadership and his significant contributions to USMS National Championship meets, Championship Meets Liaison, and USMS Championships Committee Chairman.
In 2009, the Nadadores placed in the top ten at the Long Course Nationals in Indiana, as well as winning the Regional Short Course Championships in Long Beach, California. At the USMS convention in Chicago that year, Mission Viejo Masters was awarded the coveted honor of being named the "U.S. Masters Swimming 2009 Club Of the Year." Initiated in 2006, this annual award publicly recognizes the efforts of the great clubs which embody these attributes. It is based upon the three core objectives: Serve, Educate, and Build Membership. Recipients of this award are continually developing programs that draw people in, support their swimmers, and set the standard for other clubs to follow.
Mark has also been teaching swim classes and aquatic conditioning classes at Saddleback College since 2004. He enjoys camping, traveling, and movies. "Our family has a 26' travel trailer" said Mark. "Although we have not used it recently, I have enjoyed many trips in it—from the coast north to Portland, Ore., and east to Florida."
With the Nadadores' ever increasing numbers, Mark is constantly finding new and innovative approaches to make his swimmers feel confident and competent in attaining their individual goals, while at the same time embracing a strong team spirit and unity. Today Mission Viejo Masters has over 250 swimmers training and offers 20 workouts weekly, seven days a week.
---
Discuss this article with the USMS Community
---