History & Archives
Presented by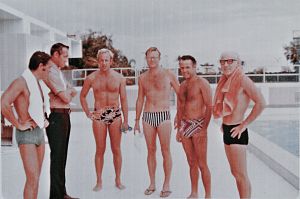 Masters swimming officially began May 2, 1970, after Captain Ransom J. Arthur, M.D., a Navy doctor in San Diego, convinced John Spannuth, then president of the Coaches Association, to hold the first National Masters Swimming Championships in the Amarillo Aquatic Club pool. Arthur felt that if the incentive was appealing, it would give older swimmers (ex-competitors and beginners alike) a goal for keeping physically fit. Dr. Arthur's vision of adults improving their fitness through swimming has grown over the years into a nationwide organization of nearly 60,000 adult swimmers.
(Read Ransom J. Arthur's 1968 paper, "Swimming and Cardiovascular Fitness in the Older Age Group and Swim Training in the Older Age Group")
The USMS timeline has a rich history filled with legendary swimmers and volunteers who have contributed to the cause of providing for lifelong fitness through swimming. The USMS History and Archives Committee preserves and documents this history in a variety of ways.