U.S. Masters Swimming Articles & Videos
Presented by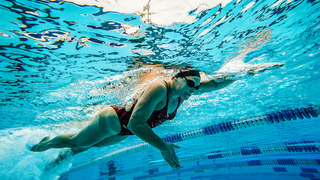 Stroke Technique
Although they're fluffy and delicious at breakfast, waffles don't belong in your swimming Waffling in swimming is when your hands waver (or waffle) back and forth or there's rapid pitch change and water slips off the hand. It's both a strength issue AND a drag issue.
Press Releases
U.S. Masters Swimming has concluded its annual meeting during the United States Aquatic Sports Convention. In addition to committee meetings and rules and legislation reviews, USMS held at-large director elections and honored many of its deserving volunteers with service awards.
USMS Clubs
Linda Bostic, 52, never intended to found one of the fastest-growing Masters programs in the country or to become a top coach within U.S. Masters Swimming. All she was looking to do back in 2009 was to start swimming again. 
Biography
In 2016, at the age of 90, Thomas O. Maine was selected as a member of the 2016 class of inductees into the International Masters Swimming Hall of Fame. The induction ceremony will take place on September 23, 2016, in Atlanta, Ga., in conjunction with the 2016 United States Aquatic Sports XXXVII Convention. 
Starts and Turns / Stroke Technique
Good starts are really hard to define. To a casual observer, a good start is one that looks pretty. In reality, looking pretty is not nearly as important as the physics of the start and how that sets you up for a great race; this is swimming, not diving, so looking good is great, but being fast is better!
Coaching
From our perspective as Masters swim coaches, the benefits of participating in our programs are obvious. Masters swimming provides conspicuous improvements in health, fitness, and racing speed—as...
Training
When talking to people at the pool, I often hear the phrase, "Oh, I'm not a real swimmer." The person then proceeds to tell me that they are a triathlete or a runner, or perhaps just someone who enjoys working out in the water. And yet, there they are swimming.

The USMS website contains articles about sports medicine, health, and nutrition. This information is not intended to be a substitute for professional or medical advice on personal health matters. For personal medical advice, or if you are concerned about a medical condition or injury, see your healthcare provider for evaluation and care. The USMS website also contains articles about swim training and technique, including drills and workouts. All swimmers should be evaluated by a healthcare professional prior to beginning swim training. In addition, consult with a trained coach when introducing new technique or drills to your swim training program.