U.S. Masters Swimming Articles & Videos
Presented by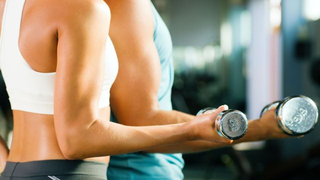 Drylands / Training
Swimmers are seldom models of perfect posture. Countless hours spent swimming back and forth encourages slumped shoulders. In addition, swimmers are often believed to be clumsier than land-based athletes. But even for these seemingly systemic problems, there is a simple solution: Strength training.
Training
Look at any swimmer's equipment bag and chances are you will find a pair of fins. They are great for all kinds of uses from helping to isolate a part of your stroke to strengthening the core and...
Training
We're adults, and our day-to-day lives cannot always revolve around swimming. So what's a swimmer to do when the need to travel, whether for business or pleasure, gets in the way of the workout...
Drylands / Training
Athletes who compete in endurance sports, such as swimming or triathlons, put a great deal of emphasis on aerobic or cardiovascular fitness. Often, the majority of workouts are geared towards...
Training
We all want to be successful, don't we? In swimming, in particular, it's clear that most swimmers are always seeking to do something better. Why else would we work so hard and keep training? But how do you define success? Are you seeking improvement, or perfection?
Training
Chances are, you have a goal that you're striving for as you swim up and down the pool. It may be a relatively small goal, or it may be a goal so big you haven't told anyone about it yet because...
Training
When you train and swim long enough, usually more than a month, you may see your performance improvements decline or stop altogether. This is a normal part of the training process. Once you're past...

The USMS website contains articles about sports medicine, health, and nutrition. This information is not intended to be a substitute for professional or medical advice on personal health matters. For personal medical advice, or if you are concerned about a medical condition or injury, see your healthcare provider for evaluation and care. The USMS website also contains articles about swim training and technique, including drills and workouts. All swimmers should be evaluated by a healthcare professional prior to beginning swim training. In addition, consult with a trained coach when introducing new technique or drills to your swim training program.