U.S. Masters Swimming Articles & Videos
Presented by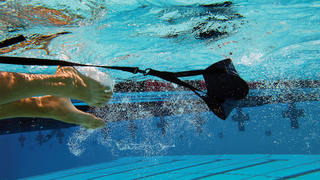 Drills / Training
If you don't have a coach helping you, start this set from whatever end necessary to get the best look at the pace clock for accurate sprint times. Be sure you've had a full warm-up prior to starting this high-intensity sprint set.
Drills / Stroke Technique
As a child, long before Sesame Street was on TV, I watched an educational show called Romper Room. Frequently, a large bumblebee character called Mr. Do-Bee presented good and inappropriate behaviors...
Drills / Stroke Technique / Training
We seem to spend a lot of time on kickboards. That's fine for many (and great for social sets), but kicking with a board can be uncomfortable, especially in the lower back. Besides the discomfort,...
Coaching / Drills / Stroke Technique / Triathlon
Recently, a coach told me about watching his novice swimmers flutter kick. Despite a lot of effort, they weren't going anywhere. The coach had tried wall kicks and a few other techniques to improve...
Drills / Open Water / Stroke Technique
Most triathletes who come from running and cycling backgrounds are well acquainted with "sinking legs syndrome," an imbalance in body position during swimming. With more muscle mass in the legs, it's...
Coaching / Drills / Stroke Technique
Information abounds about early vertical forearm and the importance of EVF in establishing an efficient pull in freestyle. I've even posted several articles on my club website about EVF. But I've...
Drills / Stroke Technique
To put it simply, if you want to swim faster, you need to reduce the drag you're creating in the water. There's an endless number of technical drills one can practice to improve body position, timing, and technique to reduce drag.

The USMS website contains articles about sports medicine, health, and nutrition. This information is not intended to be a substitute for professional or medical advice on personal health matters. For personal medical advice, or if you are concerned about a medical condition or injury, see your healthcare provider for evaluation and care. The USMS website also contains articles about swim training and technique, including drills and workouts. All swimmers should be evaluated by a healthcare professional prior to beginning swim training. In addition, consult with a trained coach when introducing new technique or drills to your swim training program.