U.S. Masters Swimming Articles & Videos
Presented by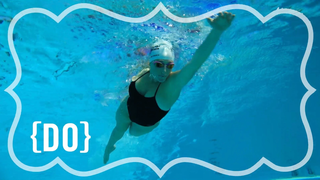 Stroke Technique
As featured in the September-October 2014 issue of SWIMMER magazine, Cokie Lepinski of SwymNut Masters shows us how to engage our hips when swimming backstroke and freestyle.
Stroke Technique
Davis Aquatic Masters Coach Stu Kahn shows us how you can tweak your technique by using your own perspective, as well as correct use of propulsive pressure during the back end of your stroke. SWIMMER Magazine http://www.usmsswimmer.com/
Coaches Only / Stroke Technique
For SWIMMER Magazine, U.S. Masters Swimming Coach Cokie Lepinski shows us how to pump up our Paddle Power and transform our hands and forearms into the ultimate propulsive tool.
Stroke Technique
U.S. Masters Swimming Coach Cokie Lepinski walks us through backstroke starts: from positioning on the blocks all the way through entry into the water.
Stroke Technique
U.S. Masters Coach Stu Kahn talks about common mistakes that vex freestylers during the breathing portion of the stroke. Whether you're just learning to swim, or are already a seasoned pro, these tips will have you breathing easier in no time.
Stroke Technique
To be good at any stroke, you need to heighten your feel for the water. For breaststroke, a heightened sense of the water is especially important in your arms. Sculling drills help improve your feel...
Stroke Technique
Butterfly is all about rhythm and good technique. Many swimmers struggle with developing and timing a strong second kick, which is important for a faster and more efficient butterfly. This drill helps with developing that crucial second kick.

The USMS website contains articles about sports medicine, health, and nutrition. This information is not intended to be a substitute for professional or medical advice on personal health matters. For personal medical advice, or if you are concerned about a medical condition or injury, see your healthcare provider for evaluation and care. The USMS website also contains articles about swim training and technique, including drills and workouts. All swimmers should be evaluated by a healthcare professional prior to beginning swim training. In addition, consult with a trained coach when introducing new technique or drills to your swim training program.