U.S. Masters Swimming Articles & Videos
Presented by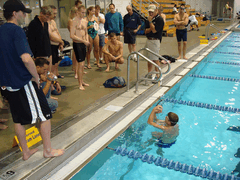 Coaches Only / Technique and Training
Who says you can't teach an old dog new tricks?  Race preparation and mental training were key elements in a Masters clinic held in Charlotte last week.  One very well known Masters coach, a USA...
Coaches Only / Technique and Training
Black Friday is not for the faint of heart. It often requires pushing through a crowd to get to the sale rack, high levels of endurance to speed walk through the mall, and motivation to stick it out...
Coaches Only / Human Interest
Much of what I do today can be traced back to the first day I joined a Masters swimming program. The beauty of it is that now, more than ten years later I share the deck with the same coach who first...
About USMS / Coaches Only
A coach is defined in The Oxford College Dictionary as "an athletic instructor or trainer." While technically accurate, that description does not come close to conveying what a good coach really...
Coaches Only / Technique and Training
A description of several drills that a small group of relatively equal ability swimmers can do together. Group drills tend to break the monotony of a long workout.

The USMS website contains articles about sports medicine, health, and nutrition. This information is not intended to be a substitute for professional or medical advice on personal health matters. For personal medical advice, or if you are concerned about a medical condition or injury, see your healthcare provider for evaluation and care. The USMS website also contains articles about swim training and technique, including drills and workouts. All swimmers should be evaluated by a healthcare professional prior to beginning swim training. In addition, consult with a trained coach when introducing new technique or drills to your swim training program.