U.S. Masters Swimming Articles & Videos
Presented by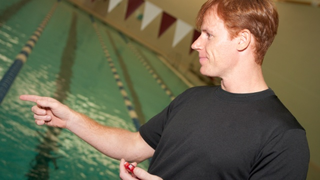 Coaches Only / Technique and Training
How we view things, including ourselves, is the critical factor in every challenge we face: in swimming, school, work, home, everywhere. A positive attitude makes success possible, while a negative...
Coaches Only / Technique and Training
Standing on deck coaching a Masters workout, I often have mixed feelings when I see swimmers reaching for their pulling gear. All too frequently, hand paddles and pull buoys become crutches, an...
Coaches Only / Technique and Training
Over the last few decades a lot of changes have been made to the way we approach swimming and coaching the freestyle stroke. And we've learned that techniques we would never have thought to be efficient have proven to be exceptionally so in some swimmers.
Coaches Only / Technique and Training
The short-axis strokes (butterfly and breaststroke) are rhythmic. When identifying the key components to developing efficiency, both strokes must have simultaneous movements of the arms and legs. The...
Coaches Only / Technique and Training
Unlike any of the other three strokes, modern backstroke is unique in that there are no form variations used by contemporary swimmers. The alternating arm action and continuous kick are so superior that they are the nearly exclusive style used in the sport.
Coaches Only / Technique and Training
If you're a competitive Masters swimmer, then you barely have enough time for swim practice, much less starts. To make the most of whatever time you do have, here's a quick checklist of toys,...
Coaches Only / Open Water / Technique and Training
Open water training creates some unique challenges for Masters coaches. Some have the luxury of open water venues for practice but for most coaches, the pool is still the rule. However, to serve our...

The USMS website contains articles about sports medicine, health, and nutrition. This information is not intended to be a substitute for professional or medical advice on personal health matters. For personal medical advice, or if you are concerned about a medical condition or injury, see your healthcare provider for evaluation and care. The USMS website also contains articles about swim training and technique, including drills and workouts. All swimmers should be evaluated by a healthcare professional prior to beginning swim training. In addition, consult with a trained coach when introducing new technique or drills to your swim training program.