U.S. Masters Swimming Articles & Videos
Presented by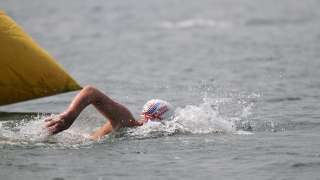 Coaches Only / Open Water / Technique and Training / Triathlon
You can spot them in your parking lot: those cars with the bike racks on top, sometimes with the bikes still in them. Along with the racks come the M-dot or oval stickers announcing the completion of...
Coaches Only / Open Water / Technique and Training / Triathlon
Preparing your athletes for an open water swim with a surf entry is an important part of helping them get ready for the coming open water season. The set below offers some ideas for how to teach...
Human Interest / Triathlon
Ben Munguia, 26, lives in Austin, Texas, with his wife and dog. He swims with the Longhorn Masters. Munguia started swimming in 2009. After 25 yards of freestyle, he claims he was often "absolutely...
Product Reviews / Triathlon
SWIMMER Magazine testers review various goggles for the March/April 2013 issue of SWIMMER Magazine.
Open Water / Triathlon
Sara McLarty walks us through open water starts for the March/April issue of SWIMMER Magazine.
Technique and Training / Triathlon
Some swimmers and many triathletes only want to swim freestyle, the fastest stroke. But for anyone inspired by Michael Phelps and other true masters of the pool, there are four techniques to conquer...
Triathlon
Listen, Land Creature: Runner who has traversed miles in solitude. Miles of steps on dusty trails and lonely paved roads under your feet. You climbed a mountain once and gazed down on the panorama below you as though you'd conquered it all. 

The USMS website contains articles about sports medicine, health, and nutrition. This information is not intended to be a substitute for professional or medical advice on personal health matters. For personal medical advice, or if you are concerned about a medical condition or injury, see your healthcare provider for evaluation and care. The USMS website also contains articles about swim training and technique, including drills and workouts. All swimmers should be evaluated by a healthcare professional prior to beginning swim training. In addition, consult with a trained coach when introducing new technique or drills to your swim training program.