U.S. Masters Swimming Articles & Videos
Presented by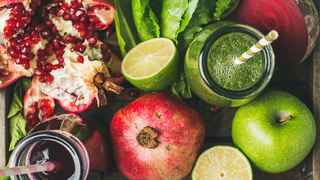 Health and Nutrition
Superfoods. It's a buzzword. Google the term and you'll find thousands of articles listing foods you should be eating because of their super-ness. Periodically, the foods at the top of the list change. Do superfoods live up to all the hype or should they be humbled?
Health and Nutrition / Open Water
An open water swim can be daunting but also exhilarating, fulfilling, and fun. To be a successful open water swimmer you must have a nutrition plan. Your nutrition plan should include fuel and hydration supplementation for both your training sessions and for your open water event.
Health and Nutrition / Technique and Training
Eating during a taper means making slight changes, so if you're thinking of doing anything drastic, don't. Leave any radical changes for the beginning of the training season, not at the end or...
Health and Nutrition
Adequate recovery is essential to not only everyday health but also to improve athletic performance. After a training session or event, you should replenish all the things that were lost during...
Health and Nutrition
At the beginning of every year we're bombarded with media and opinions telling us to set new goals, be more mindful, and implement behavior changes for what appears to be our own good. As an...
Health and Nutrition
Anxiety can strike behind the blocks before an important race or interrupt quality sleep. In the worst situations, it can make every day a stressful experience. Studies show that most Americans...
Health and Nutrition
Shoulder discomfort is a common complaint amongst Masters swimmers. For some, the pain keeps them awake at night and escalates to chronic. Articles and blog posts promise a pain-free shoulder with a...

The USMS website contains articles about sports medicine, health, and nutrition. This information is not intended to be a substitute for professional or medical advice on personal health matters. For personal medical advice, or if you are concerned about a medical condition or injury, see your healthcare provider for evaluation and care. The USMS website also contains articles about swim training and technique, including drills and workouts. All swimmers should be evaluated by a healthcare professional prior to beginning swim training. In addition, consult with a trained coach when introducing new technique or drills to your swim training program.