U.S. Masters Swimming Articles & Videos
Presented by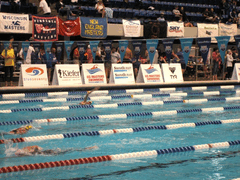 About USMS / Events
This year will go down as the year of the technical suit. FINA spent countless hours deciding on the fate of the technical suit, Rowdy Gaines commentated on elite athletes' choice of suit in Rome,...
Events / History
More than 30 Sarasota Masters swimming volunteers help to clean up the landscape and surrounding area of U.S. Masters Swimming headquarters. Narrated by Rob Butcher.
Events / History
Take a tour of the newly renovated U.S. Masters Swimming headquarters. It's hard to believe for almost 40 years the organization was virtually operated. Narrated by Rob Butcher.
Events
The annual United States Aquatic Sports convention was well attended in the Windy City this past September 15 – 20. Hundreds of representatives from USA Swimming, USA Diving, USA Water Polo, USA...
Events
The 1-Hour Postal Championship is the biggest U.S. Masters Swimming event each year, and it's not too late to participate.  You're already qualified so grab your suit, ask a friend to count, and set the clock...
Events / Human Interest
Three 90-year-old swimmers -- Kay Schimpf (left), with 1,525 yards, Frances Cichanski (center), with 1,700 yards, and Brud Cleaveland (right), with 1,700 yards, of the Florida Mavericks, completed...
About USMS / Events
In Austin, the USMS Coaches Committee will offer its traditional on-deck coaching assistance for swimmers during warm-ups.  Coaches will be monitoring the sprint and pace lanes during the morning...

The USMS website contains articles about sports medicine, health, and nutrition. This information is not intended to be a substitute for professional or medical advice on personal health matters. For personal medical advice, or if you are concerned about a medical condition or injury, see your healthcare provider for evaluation and care. The USMS website also contains articles about swim training and technique, including drills and workouts. All swimmers should be evaluated by a healthcare professional prior to beginning swim training. In addition, consult with a trained coach when introducing new technique or drills to your swim training program.