U.S. Masters Swimming Articles & Videos
Presented by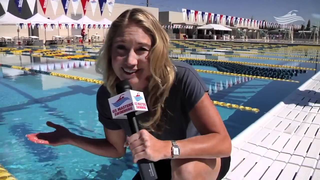 Events
Olympic gold medalist Misty Hyman and U.S. Masters Swimming Executive Director Rob Butcher take us through the beautiful Kino Aquatic Center in Mesa Arizona. This facility will be the site of the 2011 USMS Spring Nationals from April 28--May 1.
About USMS / Events
Join us here in Atlanta, Ga., on deck at the Steve Lunquist Aquatic Center for a fun weekend of interactive clinics and instruction in a friendly, non-competitive environment. Some of the top Masters...
Coaches Only / Events / Technique and Training
This new Masters swimmer shares his experiences from SwimFest and his transformation from an outsider to part of the family.
Events / Open Water
Since the 1800s swimmers have enjoyed the water surrounding New York City. The first recorded competitive swim through the Harlem River was held in 1872. This year, U.S. Masters Swimming...
Events
On Saturday, March 6, 2010, a team with the MOVY Masters Swim Club broke the national record in the 400 LCM Mixed Free with a time of 4:01.36. The swimmers were Christie Fuchs, 24; Tony Diers,...
Events / Open Water
Let the USMS Open Water National Championship season begin! On May 29th, beautiful Gar Creek at Latta Plantation will be the host of this year's USMS One Mile Open Water National Championship. Gar...
Events / Open Water
It was just about 2 a.m. and I'd only logged about two hours of sleep when I nearly jumped out of bed at the crack and flash of lightning. Booming roars and a Hollywood-esque light show would...

The USMS website contains articles about sports medicine, health, and nutrition. This information is not intended to be a substitute for professional or medical advice on personal health matters. For personal medical advice, or if you are concerned about a medical condition or injury, see your healthcare provider for evaluation and care. The USMS website also contains articles about swim training and technique, including drills and workouts. All swimmers should be evaluated by a healthcare professional prior to beginning swim training. In addition, consult with a trained coach when introducing new technique or drills to your swim training program.