U.S. Masters Swimming Articles & Videos
Presented by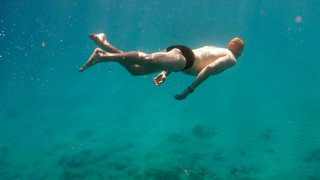 Open Water
Although open water swimming can be one of the most calming, cathartic, and tranquil sports you can take part in, not everyone feels comfortable in the open water. Even experienced pool swimmers...
Open Water
Just like in the pool, training for an open water race or event works best when you set goals and train consistently. Although swimming a lot in open water would seem logical, most open water...
Open Water
The standard rules of marathon swimming state that any swim longer than 10 kilometers (6.2 miles) can be considered a marathon swim. The rules also state that marathon swims are accomplished...
Open Water
The long-held belief that it's unsafe for anyone to swim within 30 minutes of eating is just plain incorrect. Marathon swimmers eat while treading water, gulping their food down and heading off...
Open Water
If you're already a pool swimmer, you probably have most of the gear you need to get going in open water. But just as there are unwritten rules governing what constitutes the best gear to use in...
Open Water
Sara McLarty shows us how drafting off of another athlete—that is, using the energy generated by the movement of the water off the other swimmer's body to assist your swim—is a legal way to gain an advantage over your competitors in an open water swim or triathlon race.
Human Interest / Open Water
After quietly chipping away at their cell walls with spoons for more than a year, sometime after midnight on June 11, 1962, brothers John and Clarence Anglin of Donalsonville, Ga., and fellow inmate...

The USMS website contains articles about sports medicine, health, and nutrition. This information is not intended to be a substitute for professional or medical advice on personal health matters. For personal medical advice, or if you are concerned about a medical condition or injury, see your healthcare provider for evaluation and care. The USMS website also contains articles about swim training and technique, including drills and workouts. All swimmers should be evaluated by a healthcare professional prior to beginning swim training. In addition, consult with a trained coach when introducing new technique or drills to your swim training program.