U.S. Masters Swimming Articles & Videos
Presented by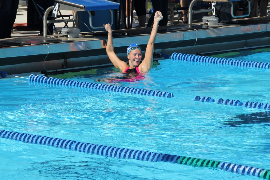 Fitness
In a few days, I will participate in my first swim meet, ever! No, I'm not 11-years-old like my competitive-swimmer daughter. I am a 39 years old stay-at-home mom who is a breast cancer survivor....
Fitness / Human Interest
Like many people who find their way back to swimming at midlife, Keith Hoffman is looking forward to taking his swimming to the next level at Summer Nationals. But his real passion is raising...
About USMS / Fitness
Do you have what it takes to go the distance? Dedicated volunteers and more than 500 members are motivated every month by US Masters Swimming fitness programs...
About USMS / Fitness
Is it worth it?  What's in it for me?  What do I get if I join?  
Fitness / Human Interest
Are you battling a health condition? Do want to meet your future mate? Do you want to inspire your kids? Is your job stressful and you just need some balance? Are you new to an area and looking to...
Fitness / Human Interest
Most of us know all about Jared, the Subway guy. We've even seen Michael Phelps endorsing his favorite foot-long, but do you know Jim Nelson? This Masters swimmer refreshes his life and his community and, through a national contest, is sharing the joy of the water with the entire country.
Fitness / Human Interest
From the unsung hero department comes Mike Roesch, 54 and a member of the New Jersey LMSC. Roesch, currently a passionate Masters swimmer, never swam at all until taking the plunge three years ago....

The USMS website contains articles about sports medicine, health, and nutrition. This information is not intended to be a substitute for professional or medical advice on personal health matters. For personal medical advice, or if you are concerned about a medical condition or injury, see your healthcare provider for evaluation and care. The USMS website also contains articles about swim training and technique, including drills and workouts. All swimmers should be evaluated by a healthcare professional prior to beginning swim training. In addition, consult with a trained coach when introducing new technique or drills to your swim training program.