U.S. Masters Swimming Articles & Videos
Presented by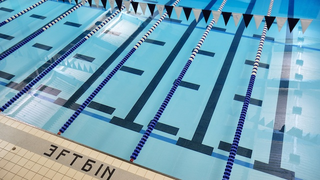 Fitness / Training
Coaches will give instructions mainly in terms of distance (or yardage) and time. Most American pools are 25 yards in length and are known as short course yards pools or SCY. To understand the sets, you'll need to add in multiples of 25.
Fitness / Training
A related question would be: Why are swimmers so obsessed with time? You'll find out, my friend, in due time. So, what is your time for a 100? Answer that question, and you are halfway to speaking Swimmerese.
Fitness / Training
Swimming is great exercise, but practicing with a group can seem mysterious to the uninitiated. Can I just show up? Are other swimmers going to laugh at me? If your questions are even more basic than that, you may first want to review our Let's Get Started page.
Fitness / Training
Not much! The beauty of swimming is that the water provides all the resistance you need to work every part of your body. No machine can match it.
Fitness / Training
Safety always comes first, and swimming's first rule is never to swim alone. Because you will always be swimming with other people, offer them the type of respect you wish to receive. Swim friendly....
Fitness
This month's American Swimming Coaches Association magazine SWIMMING addresses an important issue. The children joining their swim teams are not as fit as they used to be. The general consensus is...
Fitness / Open Water
It was a perfect day for a swim. Well, not exactly a swim—more like a race. There were about 50 of us standing in our swimsuits, goggles in one hand, neoprene black caps in the other, waiting to...

The USMS website contains articles about sports medicine, health, and nutrition. This information is not intended to be a substitute for professional or medical advice on personal health matters. For personal medical advice, or if you are concerned about a medical condition or injury, see your healthcare provider for evaluation and care. The USMS website also contains articles about swim training and technique, including drills and workouts. All swimmers should be evaluated by a healthcare professional prior to beginning swim training. In addition, consult with a trained coach when introducing new technique or drills to your swim training program.