U.S. Masters Swimming Articles & Videos
Presented by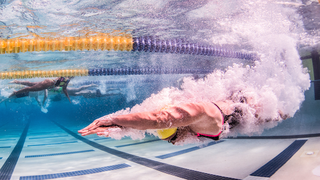 Fitness / Technique and Training
It's easy to become overwhelmed with data and performance tracking when it comes to your training. Every season there seems to be a new training method that comes out as the sure-fire way to guarantee improvement. And over the years, the messages can become conflicting and confusing.  
Fitness / Technique and Training
Unlike many other sports, swimming requires participants to operate in an usual environment. Free from worries of sweating or gravity, swimmers can enjoy swimming at some level throughout their entire life. Not many other sports can offer that sort of longevity to its athletes.
Drylands / Fitness / Products and Reviews
Swimmers know: It's important to be in the water at least once a day to keep your feel for the water and your stroke. Outside of the water, it's equally important to get in some dynamic dryland workouts for strength and flexibility.
Fitness / Stroke Technique / Technique and Training
U.S. Masters Coach Stu Kahn from Davis Aquatic Masters describes the differences between the propeller freestyle stroke and the paddle freestyle stroke, as featured in the May/June issue of SWIMMER Magazine.
Fitness / Health and Nutrition / Sports Medicine / Technique and Training
Arthritis, an inflammatory joint condition, affects people of all ages. Osteoarthritis and rheumatoid arthritis are the two most common types. Arthritis sufferers often experience pain, stiffness,...
Drylands / Fitness / Technique and Training
Many swimmers seem to be hesitant when it comes to realizing the need to get stronger. This uncertainty is slowly dying off, but there are still many misconceptions of what it really means to get stronger.
Biography / Fitness
John Shumadine lives in Portland, Maine with his wife and daughter. He works as an attorney helping people solve land issues. When he's not working or swimming, he enjoys hanging out with his family.

The USMS website contains articles about sports medicine, health, and nutrition. This information is not intended to be a substitute for professional or medical advice on personal health matters. For personal medical advice, or if you are concerned about a medical condition or injury, see your healthcare provider for evaluation and care. The USMS website also contains articles about swim training and technique, including drills and workouts. All swimmers should be evaluated by a healthcare professional prior to beginning swim training. In addition, consult with a trained coach when introducing new technique or drills to your swim training program.