U.S. Masters Swimming Articles & Videos
Presented by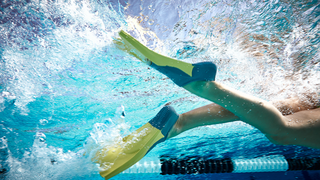 Products and Reviews
Training fins are lightweight tools that can have a big-time impact. They help swimmers improve their endurance, leg strength, and technique—things that can help you achieve that personal best or improve your fitness level.
About USMS
About 10 people drown every day in the United States, most of them adults or young adults, according to the CDC. U.S. Masters Swimming, with its adult learn-to-swim initiative, is on the front lines to reduce this statistic.
About USMS
The Simon's Rock PaceMakers put a new twist on a longstanding USMS event this winter when the workout group in Great Barrington, Mass., put a fundraising push behind the venerable USMS 1-Hour ePostal National Championship.
Coaches Only
Coaches often find problems with their swimmers' technique, but persuading swimmers that something's wrong can be difficult. It's our responsibility as coaches to help our swimmers go from not knowing there's a problem to swimming with improved technique unconsciously.
Technique and Training
You've seen them, the kids at the pool doing a happy little social kick—with their arms stretched out over the kickboard—just chatting away as they cruise up and back along the lane in packs....
Health and Nutrition
At the beginning of every year we're bombarded with media and opinions telling us to set new goals, be more mindful, and implement behavior changes for what appears to be our own good. As an...

The USMS website contains articles about sports medicine, health, and nutrition. This information is not intended to be a substitute for professional or medical advice on personal health matters. For personal medical advice, or if you are concerned about a medical condition or injury, see your healthcare provider for evaluation and care. The USMS website also contains articles about swim training and technique, including drills and workouts. All swimmers should be evaluated by a healthcare professional prior to beginning swim training. In addition, consult with a trained coach when introducing new technique or drills to your swim training program.