U.S. Masters Swimming Articles & Videos

By Author: The Professionals at FINIS, Inc.
Presented by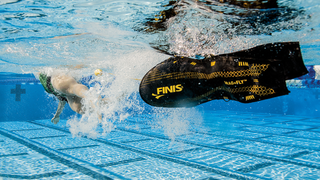 Products and Reviews / Technique and Training
If there was anything to be learned from the 2016 Olympic Games, it's that swimmers are not only getting faster than ever (even when it was thought to be impossible following the "super suit"...
Products and Reviews
Finding the right balance in the water is one of the most important, yet underrated, aspects of swimming. Although we constantly focus on elements such as technique and strength, efficiency in the...
Products and Reviews
Swimming is kind to the body—its low impact and near-weightless suspension can make your joints sing with joy. However, the repetitive movements aren't always so forgiving, particularly on the...
Products and Reviews / Technique and Training
When most people think of a monofin, they probably visualize a mermaid gracefully undulating through a fictional underwater paradise. Not just the stuff of fairytales, this large, single-blade fin can be found on pool decks around the country and has contributed to many Olympic gold medals.
Products and Reviews
Masters swimmers have many more types of paddles available to them today, but with so many options, how do you know which type is best suited to your needs? Here's a listing of several different types of paddles and how they can improve your swimming.
Products and Reviews
The alignment of a swimmer's body can influence performance in the water in a number of ways. Truly, it could be the single most important aspect of our sport. Whether you're just learning or are...
Products and Reviews / Technique and Training
In a Masters workout, sometimes being a breaststroker feels like being the odd swimmer out; you feel so different from the crowd. Even if you live on the same axle rotation as your cousin, the...

The USMS website contains articles about sports medicine, health, and nutrition. This information is not intended to be a substitute for professional or medical advice on personal health matters. For personal medical advice, or if you are concerned about a medical condition or injury, see your healthcare provider for evaluation and care. The USMS website also contains articles about swim training and technique, including drills and workouts. All swimmers should be evaluated by a healthcare professional prior to beginning swim training. In addition, consult with a trained coach when introducing new technique or drills to your swim training program.