U.S. Masters Swimming Articles & Videos
Presented by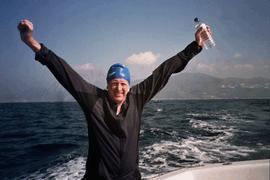 Open Water
Not the cold, nor the waves, nor the exhaustion could keep a U.S. Masters Swimming member from reaching the finish line.  On September 17, 2007 a U.S. Masters Swimming member became the 175th person and the 24th American to swim across the Strait of Gibraltar.
Damon Tucker of the Southern Pacific LMSC is an investigator for the District Attorney and spends his free time either swimming in the University of California at Irvine pool or leading his rock band...
Events
The 1-Hour Postal Championship is the biggest U.S. Masters Swimming event each year, and it's not too late to participate.  You're already qualified so grab your suit, ask a friend to count, and set the clock...
Events / Human Interest
Three 90-year-old swimmers -- Kay Schimpf (left), with 1,525 yards, Frances Cichanski (center), with 1,700 yards, and Brud Cleaveland (right), with 1,700 yards, of the Florida Mavericks, completed...
About USMS
The 2008 USMS Planners are available from the USMS National Office.  The planner is great for keeping track of your swimming activities and progress, as well as a calendar for recording workouts and...
About USMS
To launch its Centenary Year, 1908-2008, FINA is promoting this message and urging its members to preserve the environment and protect water, an essential element of life on earth. Around the world,...
Human Interest
In a recent Missouri Valley meet, six new USMS members entered to get meet experience and to get times to qualify for the 4th World Championships held by the Down Syndrome International Swimming...

The USMS website contains articles about sports medicine, health, and nutrition. This information is not intended to be a substitute for professional or medical advice on personal health matters. For personal medical advice, or if you are concerned about a medical condition or injury, see your healthcare provider for evaluation and care. The USMS website also contains articles about swim training and technique, including drills and workouts. All swimmers should be evaluated by a healthcare professional prior to beginning swim training. In addition, consult with a trained coach when introducing new technique or drills to your swim training program.