U.S. Masters Swimming Articles & Videos
Presented by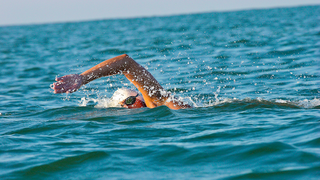 Technique and Training
We've spent a number of years preaching high elbow. There have been various interpretations of this directive, and we'll get into that shortly. But as I was working with a rather flexible athlete recently, a funny thing occurred to me: we never talk about where the shoulder should be.
Health and Nutrition
Swimmers, goals, and the most powerful force on earth—friendly peer pressure—go well together. A few years ago, some swim buddies and I made a pact to compete in the 2040 Senior Games when I'm...
Technique and Training
Chances are you've experienced shoulder pain or discomfort at some point in your swimming career. If this has ever prevented you from swimming, you will appreciate just how frustrating this can be....
Technique and Training
Hunched shoulders and tight pecs anyone? As a swimmer you probably know that these anatomical pitfalls tend to come with regular swimming when you don't stretch and counter pose from the repetitive...
Events / Open Water
September 11th, 2010 marked the 20th anniversary of the Big Shoulders Open Water Classic, a part of the H2Open Series, a number of open water swims organized and supervised by U.S. Masters Swimming....
Shoulder pain is the most common pain complaints in swimmers. Studies have shown that between 47 and 73 percent of musculoskeletal problems in swimmers relate to their shoulders. It is no wonder...
Swimmers need a delicate balance of shoulder mobility and stability in order to meet the tremendous demands of their sport. While joint hypermobility can be advantageous for the swimmer, to have good...

The USMS website contains articles about sports medicine, health, and nutrition. This information is not intended to be a substitute for professional or medical advice on personal health matters. For personal medical advice, or if you are concerned about a medical condition or injury, see your healthcare provider for evaluation and care. The USMS website also contains articles about swim training and technique, including drills and workouts. All swimmers should be evaluated by a healthcare professional prior to beginning swim training. In addition, consult with a trained coach when introducing new technique or drills to your swim training program.