U.S. Masters Swimming Articles & Videos
Presented by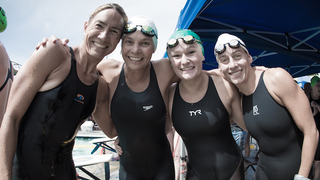 Training
Let's be honest: Masters Swimming is the best activity around. However, there are a lot of swimmers out there who don't take advantage of everything the sport has to offer. If you've never swum in a meet before, you're missing out on a huge part of the sport.
Health and Nutrition / Training
There are many different ways to be successful in your swim training, and what and when you eat contributes to that success. When it comes to maximizing the effectiveness of your nutrition, it's often a matter of timing.
Health and Nutrition / Training
If you've been swimming for any length of time, you've likely experienced some aches and pains. Whether it's while you're in the water or maybe a few hours after, most Masters swimmers will encounter some type of pain on occasion.
Drylands / Training
Most people, especially inactive ones, get weaker every year of their lives, sometimes starting as early as their 20s. But with an effective strength-training program, one can, at the very least,...
Coaching / Training
From the end of October to mid-March, coaches can really break the monotony of workouts by offering a few special holiday practices. Adding a little spice to practices this time of year helps...
Drylands / Training
Almost every objection I've heard about strength training, especially from swimmers, is about the fear of bulking up, but you can gain strength without gaining unnecessary size. I've never heard...
Training
Now that long course season has ended, some swimmers will take a break from the pool. For some, this signals a chance to reset and take a mental break while others simply want to give their bodies...

The USMS website contains articles about sports medicine, health, and nutrition. This information is not intended to be a substitute for professional or medical advice on personal health matters. For personal medical advice, or if you are concerned about a medical condition or injury, see your healthcare provider for evaluation and care. The USMS website also contains articles about swim training and technique, including drills and workouts. All swimmers should be evaluated by a healthcare professional prior to beginning swim training. In addition, consult with a trained coach when introducing new technique or drills to your swim training program.