U.S. Masters Swimming Articles & Videos
Presented by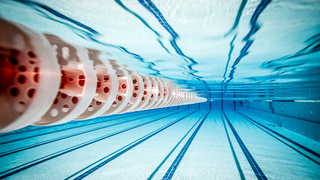 Technique and Training
Every year, many swimmers focus on how many yards or meters they swim and the clock. But if you're looking to make some improvements over last year, it may be worth your while to forget the clock and the yardage and focus on improving your technique.
Technique and Training
There are workouts in seven different specialties available for members at usms.org, but if you'd like to try writing your own, here are the five elements of each good workout.
Technique and Training
As you try new things, you feel better about yourself, and you might discover new passions and joys through the process. Here are some suggestions for growing through activities outside your comfort zone.
Technique and Training
Swimming well requires concentration on technique, but it's difficult to continually think about every little detail required for optimal performance. Here are some ways to mentally divide your swims into manageable chunks to maintain focus.
Technique and Training
In a sport where we're taught from childhood on that the only true measure of our ability is the stopwatch, how can we not feel this way?
Technique and Training
If your local swimming pool doesn't have starting blocks (or won't let you dive off them), don't despair. Here are some ways to ensure spectacular starts when it's your turn to take your mark.
Technique and Training
Masters swimmers are a diverse group. The technical nature of our sport also draws plenty of scientists and engineers. Many of our brainy lanemates spend their days manipulating the modern...

The USMS website contains articles about sports medicine, health, and nutrition. This information is not intended to be a substitute for professional or medical advice on personal health matters. For personal medical advice, or if you are concerned about a medical condition or injury, see your healthcare provider for evaluation and care. The USMS website also contains articles about swim training and technique, including drills and workouts. All swimmers should be evaluated by a healthcare professional prior to beginning swim training. In addition, consult with a trained coach when introducing new technique or drills to your swim training program.