U.S. Masters Swimming Articles & Videos
Presented by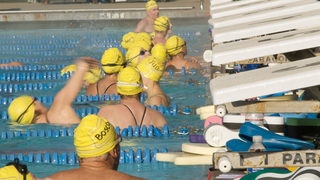 Coaches Only / Technique and Training
Here's a six-week taper plan with the 2017 U.S. Masters Swimming Summer National Championship approaching soon.
Technique and Training
Most of us think a lot about hand position in all our strokes, which is only natural. We feel the water with our hands, and they're very sensitive to pressure on the water and where the water "slips" off.
Technique and Training
Spring Nationals is over and many swimmers are turning their attention to long-course season. One way to make a successful transition, whether you want to compete in Summer Nationals or other meets...
Technique and Training
Here are a few questions to ask yourself before vowing to become an awesome SDKer.
Technique and Training
Your distance per stroke tells only part of the story in terms of your stroke.
Coaches Only / Technique and Training
Swimmers receive significant benefits from competing, and if coaches pay attention to those events, we'll improve at our jobs.
Technique and Training
As with any physical activity, swimming offers you both good and bad days. Some days you'll have great workouts, others you'll slog through mediocre workouts, and some days you'll have bad...

The USMS website contains articles about sports medicine, health, and nutrition. This information is not intended to be a substitute for professional or medical advice on personal health matters. For personal medical advice, or if you are concerned about a medical condition or injury, see your healthcare provider for evaluation and care. The USMS website also contains articles about swim training and technique, including drills and workouts. All swimmers should be evaluated by a healthcare professional prior to beginning swim training. In addition, consult with a trained coach when introducing new technique or drills to your swim training program.