U.S. Masters Swimming Articles & Videos
Presented by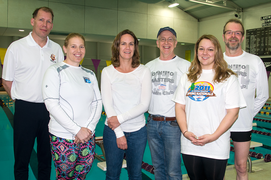 Adult Learn-to-Swim / Human Interest / Open Water
What's a weekend worth in the quest to make sure every adult in the United States is water-safe? That's the question two teams recently asked themselves in setting out to swim for change. And...
Adult Learn-to-Swim
It's our final swimming lesson. My instructor, Chris Holley, and I have met eight times in four weeks. Today is test day, and I'm nervous. First up: breathing.
Adult Learn-to-Swim
I'm doing it. I. Am. Swimming!
Adult Learn-to-Swim
Driving to my first swim lesson, a million thoughts were swimming through my head: What the heck am I doing? Is it too late to change my mind? OMG, people are going to see me in a swim suit! Will...
Adult Learn-to-Swim
What is it like to learn to swim as an adult? We asked journalist and nonswimmer Jerry McCormick to document his journey as he became safer and more comfortable in water with the help of one of our...
About USMS / Adult Learn-to-Swim
Now in its second year, the USMS ALTS campaign has added instructor certification to its efforts to decrease the number of adult drownings.  Learn more at usms.org/learntoswim
Adult Learn-to-Swim / Human Interest
Tselane Gardner, 48, of Rose Bowl Masters, didn't grow up a swimmer. Rather, she had a few, limited interactions with a neighbor's pool in the summers. "I didn't really know how to swim, so I'd just play around in the shallow end and have fun," she recalls. 

The USMS website contains articles about sports medicine, health, and nutrition. This information is not intended to be a substitute for professional or medical advice on personal health matters. For personal medical advice, or if you are concerned about a medical condition or injury, see your healthcare provider for evaluation and care. The USMS website also contains articles about swim training and technique, including drills and workouts. All swimmers should be evaluated by a healthcare professional prior to beginning swim training. In addition, consult with a trained coach when introducing new technique or drills to your swim training program.