U.S. Masters Swimming Articles & Videos
Presented by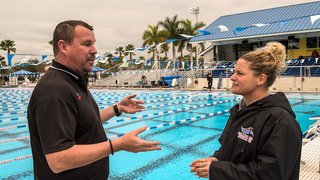 Coaches Only
All Masters coaches need great communication skills to effectively give swimmers quality workouts and useful stroke feedback. But the best coaches leverage their communication skills to create even more opportunities to help people improve their swimming—by building and sustaining club membership.
Coaches Only
Many Masters swimmers swim with the same lanemates at every workout. They find their group and their lane mojo, and that's it, day after day. This works well for a lot of swimmers who crave routine in their workouts.
Coaches Only
Coaching is not a single, monolithic profession. Age-group and high school swim coaches place a strong emphasis on starts, turns, and technique. Although these elements are important in Masters...
Coaches Only / Technique and Training
Albert Einstein defined insanity as "doing the same thing over and over and expecting different results." Yet many Masters swimmers repeat the same workout with only minor variety, and then wonder why they don't improve. Here are some suggestions to help you break out of that rut.
Coaches Only
As swimming coaches, we hear the following six things (or variations on them) just about every day from swimmers: Is today going to be hard? How far did we go/are we going to go? When is sprint...
Coaches Only
Have you ever noticed how everyone gets excited when the 8-and-unders swim at age-group or summer league swim meets? Parents and coaches make a big deal about all the swimmers, regardless of their...
Coaches Only
During big events such as the upcoming 2015 Nationwide USMS Spring National Championship, many swimmers will be showing off how hard they've worked all winter. And although it's the swimmers...

The USMS website contains articles about sports medicine, health, and nutrition. This information is not intended to be a substitute for professional or medical advice on personal health matters. For personal medical advice, or if you are concerned about a medical condition or injury, see your healthcare provider for evaluation and care. The USMS website also contains articles about swim training and technique, including drills and workouts. All swimmers should be evaluated by a healthcare professional prior to beginning swim training. In addition, consult with a trained coach when introducing new technique or drills to your swim training program.