U.S. Masters Swimming Articles & Videos
Presented by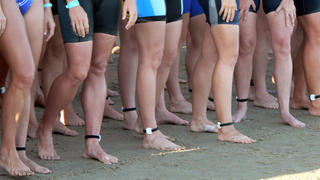 Triathlon
Experienced runners and cyclists have strong legs and excellent lower-body endurance. Therefore, it's only natural to assume that your legs will provide an advantage in swimming. It makes sense to apply most of your energy toward a powerful kick when you race in the water. Doesn't it?
Technique and Training / Triathlon
Swimming faster must necessarily begin with swimming smarter. As with most endeavors—physical or otherwise—there is a limit to progress that can be made without continual improvement in...
Triathlon
For some triathletes, the most daunting part of the race is the first 30 seconds. After floating in place among as many as 2,000 other swimmers (in the case of an in-water Ironman start), the silence...
Triathlon
Every triathlete knows how important it is to have the right shoes, the right bike, and the right nutrition plan. We buy power meters and carbon fiber water bottle cages, and we practice for hours to...
Technique and Training / Triathlon
Before you begin incorporating training equipment into your workout sets, it's important to understand that such tools should be used to correct technique, not swim faster in training sets....
Technique and Training / Triathlon
Recently, a coach told me about watching his novice swimmers flutter kick. Despite a lot of effort, they weren't going anywhere. The coach had tried wall kicks and a few other techniques to improve...
Technique and Training / Triathlon
In 2009 my boys were swimming with Fort Worth Area Swim Team and I was logging a lot of bleacher time, as any swim parent does. I watched the Masters group with fear and envy thinking that it was...

The USMS website contains articles about sports medicine, health, and nutrition. This information is not intended to be a substitute for professional or medical advice on personal health matters. For personal medical advice, or if you are concerned about a medical condition or injury, see your healthcare provider for evaluation and care. The USMS website also contains articles about swim training and technique, including drills and workouts. All swimmers should be evaluated by a healthcare professional prior to beginning swim training. In addition, consult with a trained coach when introducing new technique or drills to your swim training program.