U.S. Masters Swimming Articles & Videos
Presented by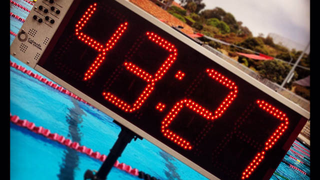 About USMS / Events
In 1977, a still-young U.S. Masters Swimming organization got a new event—the 1-hour swim. The concept was to challenge swimmers to see how far they could swim in one hour during the month of...
Events
Despite a couple days of oppressive heat at the outdoor Mt. Hood Community College pool in Gresham, Ore., this year's U.S. Masters Swimming Summer National Championship was one of the best in many...
Events
The year 2008 was the best of times for Speedo, and the worst of times for just about every other competition swimwear manufacturer on the planet. In February of that year, Speedo debuted a...
Events
Masters swimmers returned to the Greensboro Aquatic Center for another impressive event, the Nationwide USMS Spring National Championship, setting 40 individual and 15 relay records across the four-day meet. That's nine more records than were set in the same pool at the 2012 meet.
Events
The competitors at the 2014 U.S. Masters Nationals complete the Swim Cap Challenge, and nominate the 2014 USA Swimming Pan Pac team to do the same.
Events
The 2014 Nationwide U.S. Masters Swimming Spring National Championship, where fast and fun bumped shoulders in Santa Clara, Calif., from May 1--4. This video captures all the moments that make USMS...
Events
Nathan Adrian swims a 18.78 in the 50 yard freestyle at the 2014 U.S. Masters Swimming Spring Nationals.

The USMS website contains articles about sports medicine, health, and nutrition. This information is not intended to be a substitute for professional or medical advice on personal health matters. For personal medical advice, or if you are concerned about a medical condition or injury, see your healthcare provider for evaluation and care. The USMS website also contains articles about swim training and technique, including drills and workouts. All swimmers should be evaluated by a healthcare professional prior to beginning swim training. In addition, consult with a trained coach when introducing new technique or drills to your swim training program.