U.S. Masters Swimming Articles & Videos
Presented by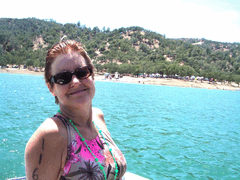 Events / Human Interest / Open Water
It looks kinda cold," I say to the 20-ish young man who reminds me of my son as we survey the water from the lake's edge. "I may not do the two-mile if it's too cold." "Oh, naw, it's...
Events
I've been asked quite a few times now how my trip went to Mesa, Ariz. In short, this was the single most inspirational event I have ever attended. While there were over 1800 of the top qualifying...
Events / Human Interest
"I'm going to need my hand here for a second," pleaded my husband Tom as he moved his blue fingers back to the steering wheel and out of the vice grip my hand had formed over his. Brake lights...
Events / Open Water
On a relay, you are a part of a team. When you contribute money toward finding a cure for a disease, you are also part of a team. The difference is that a relay swim has a finish line you can reach...
Events
John DaPrato reports on the Pennock Island Challenge in Alaska: "My long New York training swims seemed like long ago as I boarded my Alaska Airlines plane heading north (way north) from Seattle....
Events / Products and Reviews
U.S. Masters Swimming is an organization that focuses on adult health, fitness, and wellness through aquatics. Out of our 48,000 members, 35 percent are competitive. USMS will host the 2009 Short Course Nationals from May 7--10 in Clovis, Calif.—be there!
About USMS / Events
We have identified twenty-eight current and previous Masters swimmers who have qualified to compete for a spot on the 2008 US Olympic Swim Team. The Olympic Trials will be held from Sunday, June 29th...

The USMS website contains articles about sports medicine, health, and nutrition. This information is not intended to be a substitute for professional or medical advice on personal health matters. For personal medical advice, or if you are concerned about a medical condition or injury, see your healthcare provider for evaluation and care. The USMS website also contains articles about swim training and technique, including drills and workouts. All swimmers should be evaluated by a healthcare professional prior to beginning swim training. In addition, consult with a trained coach when introducing new technique or drills to your swim training program.