U.S. Masters Swimming Articles & Videos
Presented by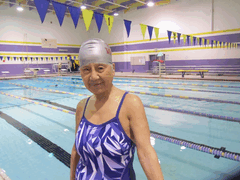 Fitness / Human Interest
Peony Munger loves swimming and loves the butterfly stroke. While many Masters swimmers may feel the same way, Munger is the only one we know of whose love has carried her through 1,000 miles of...
Fitness / Human Interest
When Mark Lambert's son headed off to college last fall, Lambert decided to make swimming a habit. Although this low-key swimmer claims it wasn't on purpose that the habit turned into a streak,...
Fitness / Human Interest / Open Water
When you are tackling something as big as the width of Lake Tahoe, it helps to have a calm and experienced hand on the rudder. Jeri Gintert says she didn't have enough swimming experience to be...
Fitness
While millions of "fully abled" people find swimming invaluable for fitness, for me it goes deeper: Swimming allows me to function as a "normal" person. Masters Swimming is an ideal way for...
Fitness
"We'll actually be swimming between the islands," I told a curious woman from Atlanta, Georgia standing next to me at the Temple of Zeus.  She had misunderstood my answer to her question, "Where are you headed after Athens?" and thought we meant we'd be taking a cruise between the Greek islands.
Fitness
Sports psychology isn't just for the elite athlete. It's for all of us!! Sports psychology deals with our mental skills. We train our physical skills when we are in the pool so what not our mental skills too?
Fitness
I love to compete. I swam in my first competition at the tender young age of 50. Until then, I had been a runner for 22 years. Knee surgery was the end of my daily running regimen and the start of...

The USMS website contains articles about sports medicine, health, and nutrition. This information is not intended to be a substitute for professional or medical advice on personal health matters. For personal medical advice, or if you are concerned about a medical condition or injury, see your healthcare provider for evaluation and care. The USMS website also contains articles about swim training and technique, including drills and workouts. All swimmers should be evaluated by a healthcare professional prior to beginning swim training. In addition, consult with a trained coach when introducing new technique or drills to your swim training program.