U.S. Masters Swimming Articles & Videos
Presented by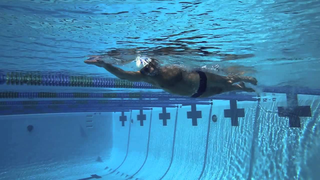 Fitness / Stroke Technique / Technique and Training
U.S. Masters Coach Stu Kahn from Davis Aquatic Masters describes the differences between the propeller freestyle stroke and the paddle freestyle stroke, as featured in the May/June issue of SWIMMER Magazine.
Fitness / Product Reviews
Can music make your workout better? Find out which underwater audio players are the best for your swim as SWIMMER Magazine reviews some of the best on the market.
About USMS / Fitness
The Nike Go the Distance program is one of the most popular participation programs offered by USMS. The year-long event has seen tremendous growth since GTD was conceived by the Fitness Committee in...
About USMS / Events / Fitness
If you were one of the nearly 3000 swimmers who entered the 2011 USMS 1-Hour Postal Swim (OHP), then you have a chance to do what very few swimmers do each year:  complete the USMS Postal Challenge...
Fitness
I had the pleasure of meeting Coach Nancy Brown of Maryland Masters a few years ago at YMCA Masters Nationals. Every day after dinner she gathered her swimmers into the hospitality suite and gave out...
Fitness / Technique and Training
Have you ever come to the realization that the intensity you have felt in the water for so many years is no longer there? You know—that extra something that kicks in, moving into a higher gear,...
Fitness
Evidently not everyone is as enthralled with exercise as we fitness swimmers are. Take my hairdresser for example. He lives across the street from a beautiful little lake in Reno that was built by...

The USMS website contains articles about sports medicine, health, and nutrition. This information is not intended to be a substitute for professional or medical advice on personal health matters. For personal medical advice, or if you are concerned about a medical condition or injury, see your healthcare provider for evaluation and care. The USMS website also contains articles about swim training and technique, including drills and workouts. All swimmers should be evaluated by a healthcare professional prior to beginning swim training. In addition, consult with a trained coach when introducing new technique or drills to your swim training program.