U.S. Masters Swimming Articles & Videos

By Author: The Professionals at Hammer Nutrition
Presented by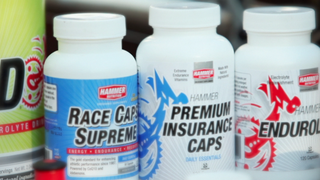 Health and Nutrition / Products and Reviews
Swimmers often employ a tremendous range of training techniques, a variety of equipment and training aids, and use high-quality fuels and supplements, all for the purpose of helping them get the most...
Health and Nutrition / Products and Reviews / Technique and Training
Are you a swimmer—be it sprinter or long distance—who believes that protein supplementation is strictly for weight lifters and bodybuilders? If so, it's vitally important to understand that...
Health and Nutrition / Products and Reviews / Technique and Training
Do you think that your diet provides the optimum amount of all nutrients, and thus you take no supplements? If you answered, "Yes," then this is an important article for you, one that we're...
Health and Nutrition / Products and Reviews
Science has a number of theories as to why muscle cramps occur; however, no definitive answers have been given. That's a real drag because, of the potential performance-inhibiting issues involved in swimming, arguably nothing can stop you in your tracks quicker than a full-fledged muscle cramp.
Training causes physical stress and depletion. Recovery is when adaptation to that stress occurs; it involves improvements in muscle tissue rebuilding, glycogen storage, and immune system...
You've spent a lot of hours in the pool and in the gym, preparing for your important, soon-to-be-happening competition. You're fit, you're ready, you're psyched, and now you're anxiously...
As a competitive swimmer, you want to get the most out of every workout and race, so you can enjoy the best possible results come race day. Although the subject of proper fueling encompasses a...

The USMS website contains articles about sports medicine, health, and nutrition. This information is not intended to be a substitute for professional or medical advice on personal health matters. For personal medical advice, or if you are concerned about a medical condition or injury, see your healthcare provider for evaluation and care. The USMS website also contains articles about swim training and technique, including drills and workouts. All swimmers should be evaluated by a healthcare professional prior to beginning swim training. In addition, consult with a trained coach when introducing new technique or drills to your swim training program.