Ask the Swim Doctor, Paul Hutinger
Coaches and communications awards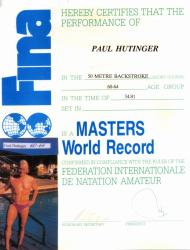 Paul Hutinger
The FINA certificate on the right shows that Paul Hutinger set a Masters World Record in the 50 SCM backstroke in the 60-64 age group with a time of 34.81 seconds, a feat he accomplished in October of 1986. 
Paul, one of the pioneers of Masters swimming,  a dedicated coach and mentor who also writes a column, "Ask the Swim Doctor," for the Florida LMSC Newsletter, was awarded the second annual Florida LMSC Coaches Award on February 13, 2010 at the ninth annual Florida LMSC Social and Awards Banquet.
Paul was awarded the 2008 June Krauser USMS Communications Award which is presented annually to an individual, or group, whose communicative efforts have contributed to the growth, improvement, or success of USMS. Excerpts from Margie's nomination paper:
From 1974-1980, he wrote and published Lane 4, a Masters quarterly swim journal, with over 400 national and international subscribers. Topics included analysis of swimming strokes, physiology, psychology, training techniques, sports medicine, living a healthy life and the social benefits, for swimmers and spouses. At that time, he also served on the staff of Aquatic World Magazine, published bimonthly, as a Special Contributor, and wrote an Advice for the Swimmers' Body column. Hutinger distributed his "Masters Swimming Log and Guide" in 1976, with space for daily and weekly yardage. He wanted swimmers to realize the importance of a regular swimming training program, and how they could track their goals. In 1982, he published Journal of Masters Swimming, a 214 page book, compiled from selected articles from Lane 4. Since 1970, Dr. Hutinger has compiled a scientific study of the affects of aging and swimming, from research he has gathered on himself. He presented this research to the Canadian Masters Swim Clinic in 1977, the World Swimming Conference in1992 and the Masters convention in 2000. Since 1997, he regularly writes two columns which benefit his Masters club and LMSC swimmers. His "Tip of the Month" column appears in the Maverick Lane Lines, published bimonthly. He initiated an "Ask the Swimming Doctor"column for the FL LMSC Newsletter, published quarterly. Both publications include a variety and range of topics, including training, health and nutrition, competition, stroke technique, mental strategies, sports medicine and fun and fitness. Paul Hutinger continues to study swim techniques and stroke analysis, inspired by the work of his college mentor, Doc Counsilman. He has made valuable and significant contributions to Masters swimming, by continuing to communicate his expertise and knowledge of the vast expanses of the sport, in a style that's easily absorbed and understood, by swimmers at all levels of achievement.
Paul and Margie Hutinger received the U.S. Masters Fitness Award in 2003. As directors of the Florida Maverick Masters, Paul and Margie spent a great deal of time over the past year promoting the Virtual Swim Series among their teammates and thus were co-recipients of the 2003 Fitness Award. In response to their efforts, the entire team is participating in at least one of the Virtual Swims. In addition, Paul and Margie are in the process of developing a new Virtual Swim, Swim around the Florida Keys, to be added to the growing list of possible swims. During the year, in addition to the V.S.S., Paul and Margie continually promote other fitness activities in which the entire team participates.
How They Swim, By Bill Volckening , published in Swim magazine, July-August, 2002.
Dr. Paul Hutinger, 78, of St. Petersburg, Fla., is a top competitor, an esteemed Masters coach, and one of the pioneers of United States Masters Swimming. Hutinger, who has been swimming competitively for 62 years, not only maintains the distinction of being the only person named USMS All-American every single year for 30 consecutive years (from 1972 to the present), but he has also held all three backstroke records in seven age groups (including 45-49, 50-54, 55-59, 60-64, 65-69, 70-74, and 75-79)—and he still holds four records in the 70-74 age group.
Despite his lengthy list of lofty accomplishments, Hutinger's introduction to the sport of swimming was relatively humble. At age 12, he learned to swim while spending two weeks at a summer camp near St. Louis. During that time, he took note of the better swimmers, observed their techniques, and later practiced those techniques at the local public swimming pool. Paul spent his freshman year of high school on the gymnastics team before switching to competitive swimming his sophomore year. As soon as he started swimming, his coach encouraged him to join the Y so he could swim year round, but he needed to work as a swim leader to pay for his Y membership and classes.
Hutinger experienced great success through the AAU swimming program and then in collegiate swimming at the University of Iowa in the 1940s. From 1953 to 1963 he was an age group coach in the greater Kansas City area where several of his swimmers and relays were ranked number one nationally. He also coached high school swimming from 1962 to 1964, and his high school teams were city champions during those years. Hutinger continued his coaching career at Western Illinois University from 1964 to 1968. He led the Western Illinois swim team to the conference championships from 1964 to1966 and the water polo team to the NAIA Championship in 1968.
Paul Hutinger participated in many of the early meetings with Ransom Arthur to establish the Masters swimming program in the United States. During those formative years, Hutinger wrote many articles about Masters and directed the first Masters meet in the Midwest at Western Illinois University in 1971. He conducted four Masters clinics in 1971 and 1972. One of his clinics was six days long and included pool time and lab studies. He also published national and international newsletters called "Lane 4" and the "Journal of Masters Swimming".
Although he was involved in Masters swimming from its inception, Hutinger actually missed the very first Masters meet, nationals in Amarillo, Texas, in 1970. At the time, he was finishing his PED Doctorate in Exercise Physiology at Indiana University, studying under his former coach, the legendary Doc Counsilman. His dissertation was on the effects of strength on swimming speed as measured by isometric, isotonic, and isokinetic devices. His lab work in exercise physiology started him on a personal, 30-year study about the effects of Masters swimming on aging. That lengthy study was the topic of his coaching presentation at the Masters convention in Orlando in 2000. To this day, Hutinger feels earning his doctorate as a 45-year-old is his greatest non-athletic accomplishment.
In 1971, Paul attended eight regional meets, including meets in Denver, Indiana, and Ft. Lauderdale as well as the second nationals in Amarillo, Texas. In 1977, he became the fifth person ever to receive the Ransom J. Arthur Award, the highest distinction in United States Masters Swimming, presented annually for extraordinary efforts in promoting the objectives of Masters swimming.
Paul Hutinger's success in Masters swimming has stretched far beyond his own personal accomplishments. During the last nine years, he has shared this success with his wife, Margie. "We met at a pool," says Margie, "and we were married at a pool—in our bathing suits!" In 1996, Paul and Margie formed the Florida Maverick Masters, a highly successful Masters swimming organization. The club, based at the North Shore Pool in St. Petersburg, has not only won four USMS National club championships but also boasts the highest percentage of All-Americans and Top Ten swimmers of any Masters swimming club in the United States. Even more impressive is fact that he introduces many new swimmers to Masters swimming each year. Since 1998 the Mavericks have hosted two USMS Long Distance Postal National Championship swims, including the highly successful 2002 USMS One-Hour Swim directed by Margie. They have also created a strong sense of organizational identity that is seen in every aspect of the club from communications to outfitting.
Paul and Margie share a deep appreciation of Masters swimming on all levels along with a keen sense of humor and the belief that swimming is a lifelong activity. Despite his many elite accomplishments, Paul Hutinger cares deeply about all swimmers, regardless of age, experience, or ability. Even after 62 years of competitive swimming activity, he is always finding new ways to share his love of swimming with everyone around him—and that may be his most awesome accomplishment yet!
Paul grew up in St. Louis. After three years in the Navy during WWII, he swam for the University of Iowa as a "utility" swimmer, mostly freestyle, middle distance, and lettered all four years. Dr. James E. "Doc" Counsilman was the assistant coach at Iowa during those years. Paul completed his masters in 1952 and began his teaching career and age group coaching in Kansas City. In 1964, he became the swim coach at Western Illinois University, and continued coaching until 1970. He obtained his PED, with his former coach, Doc Counsilman, as Chairman of his Dissertation. He taught Exercise Physiology and Anatomy Physiology at Western Illinois, until he retired, in 1992.
During his coaching years, Paul continued his swimming workouts and was ready for Masters with the inception of the program in 1970. He contributed organizational ideas, and held one of the first Masters meets at Western in 1971. Paul entered the second national meet in Amarillo, Texas, in 1971, and has participated every year since then. He was one of the founders of a new Masters swim team in 1996, Florida Maverick Masters.
Dr. Hutinger has made a study of swimming technique and stroke analysis inspired by the work of his mentor, Doc Counsilman. For eight years he published "A Journal of Masters Swimming" which circulated in the United States and Canada. His book with the same name is a compilation of selected articles from those issues. Gathering research on himself since 1970, he has compiled a scientific study of the affects of aging and swimming. He presented this research to the Canadian Masters Swim Clinic in 1977 and the World Swimming Conference in 1992. Paul received the prestigious Ransom Arthur Award in 1976 for his contribution to Masters swimming through his writings and clinics. Paul has held many world and national records in all strokes, and currently holds backstroke records in all courses. Each year since 1972, he has been selected for the All-American Masters Swim Team.
Paul has participated in triathlons and was ranked tenth nationally in his age group, and, in 1987, he qualified for the Hawaiian Ironman. Besides Masters meets, he also participates in the Senior Games—swimming and cycling, but no more running. He follows a "nearly vegetarian" diet, with small portions of meat, and no salt. His advice on nutrition is to see what works best for you, since "everyone reacts differently."
Hutinger, the father of two sons, Chuck and Scott, resides in St. Petersburg, Fla., with his wife Margie, also a swimmer, cyclist, and triathlete.
See also: Laps count, but so do smiles by Terry Jones, St Petersburg Times, published December 23, 2003
---
Discuss this article with the USMS Community
---