Marketing Resources
Marketing Materials
Swim caps, stickers and brochures are available for all USMS programs to help you to promote Masters Swimming in your area.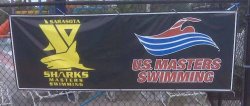 Co-Branded / USMS Banners
Free 3' x 6' USMS banners are available for all registered USMS clubs to hang in their facilities. USMS logo banners and co-branded banners with both the USMS and club logo are available.