U. S. MASTERS SWIMMING NAMES TODD SMITH AS EXECUTIVE DIRECTOR
Smith brings 25 years of sports management experience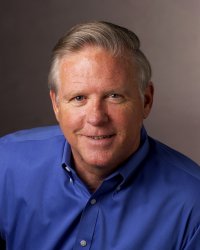 Todd Smith has been named the Executive Director of United States Masters Swimming (USMS), President Rob Copeland announced Friday. USMS is the largest independent masters organization in the world, and is dedicated to enriching the Masters swimming experience for adult swimmers at all levels of ability.
"We are delighted to have Todd join USMS as our first executive director," Copeland said. "This is the most significant step Masters swimming has taken since our founding in 1970, taking our program to the next level of management and leadership.  Todd brings a wealth of experience and passion to Masters swimming."
Smith comes to USMS from USA Diving, Inc., where he was Executive Director and CEO for the past 25 years. During that period, Smith developed and implemented USA Diving's strategic plan, which included creation of an online membership and event registration, and he increased the organization's annual budget by 1100 percent. Smith directed the national office and oversaw all business operations—including finance, budget, compliance, human resources, public relations and general administration.
"I am honored to serve as the first executive director of United States Masters Swimming," Smith said. "USMS is an amazing organization of over 42,000 goal-oriented members passionately dedicated to improving their fitness through swimming.  It is the gold-standard when it comes to adult programs which promote healthy lifestyles, friendship, and camaraderie."
"Todd's experience as executive director of USA Diving will be a tremendous asset in clarifying the future of Masters swimming.  I look forward to working with Todd to provide new and improved programs and services to our members, volunteer leadership teams and staff," Copeland said.
UNITED STATES MASTERS SWIMMING
United States Masters Swimming (www.usms.org) is a national organization that provides organized workouts, competitions, clinics and workshops for adults aged 18 and over. Programs are open to all adult swimmers (fitness, triathlete, competitive, non-competitive) who are dedicated to improving their fitness through swimming. Founded in 1970, USMS is organized with 500 clubs in 53 regions throughout the nation.
Contact: Rob Copeland, President, United States Masters Swimming at President@usms.org
---