Amanda Beard Live Twitter Q&A
Ask Amanda Beard on Twitter and win Aqua Sphere prizes
U.S. Masters Swimming is partnering with Aqua Sphere to present a Twitter question and answer session with four-time Olympian and USMS member, Amanda Beard. The Twitter Q&A will be live for two hours on Monday, Oct. 21, from 1-3 p.m. EST. During this time, Amanda will answer the questions you've always wanted to ask but never had the chance to. At the end of the two hours, we'll select our favorite questions and the askers will win Aqua Sphere prizes.

It's easy to ask Amanda your question. Just log onto Twitter from 1-3 p.m. EST, use the hashtag #AskAmandaBeard and ask away. Make sure to follow and tag @AquaSphereSwim and @MastersSwimming to qualify to win the prizes.

"Amanda is an inspiration to many swimmers across the world, especially Masters Swimmers," says USMS Marketing Coordinator Kyle Deery. "Many of our nearly 60,000 members have families, work, and swimming in their daily routines, which is a very tough balancing act. Add Olympian, celebrity, and blogger to the mix and you have an extraordinary person. For her to share her secrets to how she manages all of this will be beneficial for many of us."

"I've always enjoyed the Masters Swimming community and get a lot of great questions from them at the practices and events I attend," says Amanda Beard, seven-time medalist. "When the opportunity arose for me do a Twitter Q&A with Aqua Sphere and U.S. Masters Swimming, I knew this was a chance for me to connect with even more USMS swimmers."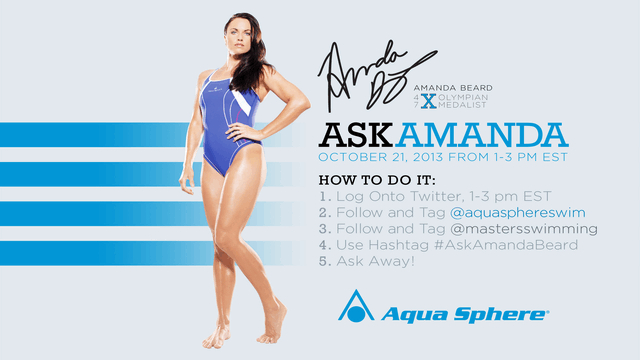 About Aqua Sphere
Born 1998 in Genoa, Italy, Aqua Sphere began a quest to create more comfortable eyewear for swimming. Launching the groundbreaking Seal swim mask, Aqua Sphere changed the landscape of eye protection, introducing a new type of eyewear that provides increased peripheral vision with curved lenses, easy to adjust straps, and long lasting comfort.

Today, Aqua Sphere is focused on developing products that swimmers, triathletes, and water enthusiasts desire. Working with elite athletes such as four-time Olympian Amanda Beard or Ironman World Champion Faris Al-Sultan, Aqua Sphere continues to innovate and offers a complete range of swimwear, wetsuits, eyewear, and accessories. Aqua Sphere's commitment to innovation can be found through its patented technologies in eye protection and wetsuits as well as its unique body-shaping swimwear and the first compression textile designed for water. Aqua Sphere has developed a reputation for technology, quality and comfort.
---