SmartyPants Vitamins USMS Fitness Series
Set, train for, and achieve your fitness goals with three swimming challenges
The SmartyPants Vitamins U.S. Masters Swimming Fitness Series contains three challenges: 30-minute, 2K, and 1-mile swims. Entry net proceeds from all three challenges in the Fitness Series support the USMS Swimming Saves Lives Foundation. You can complete these fun challenges with your local USMS club or swim on your own.
Event dates: Feb. 15 - 28
Entries open: Dec. 1
Entries close: Feb. 28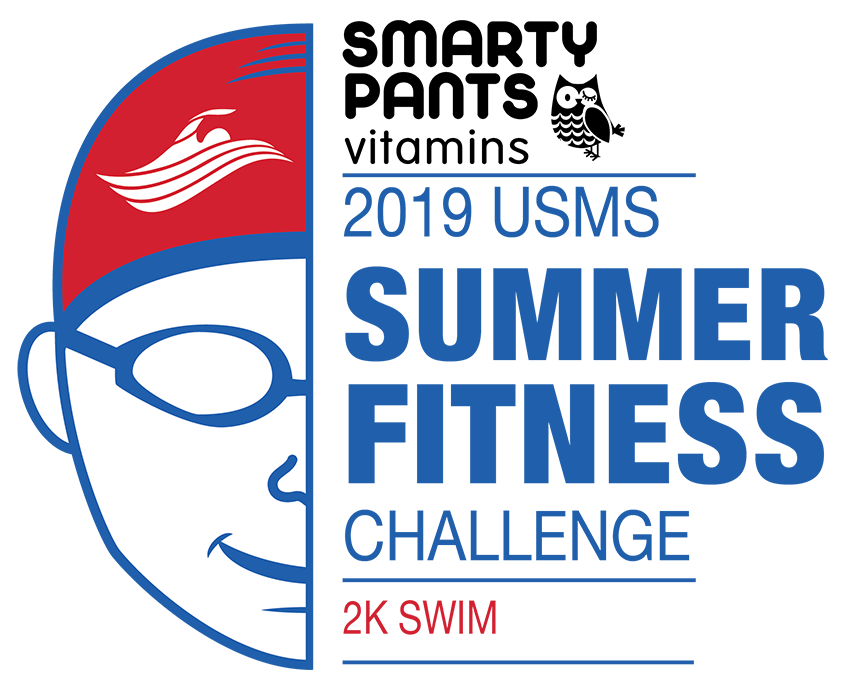 Event dates: July 15 - 31
Entries open: May 1
Entries close: July 31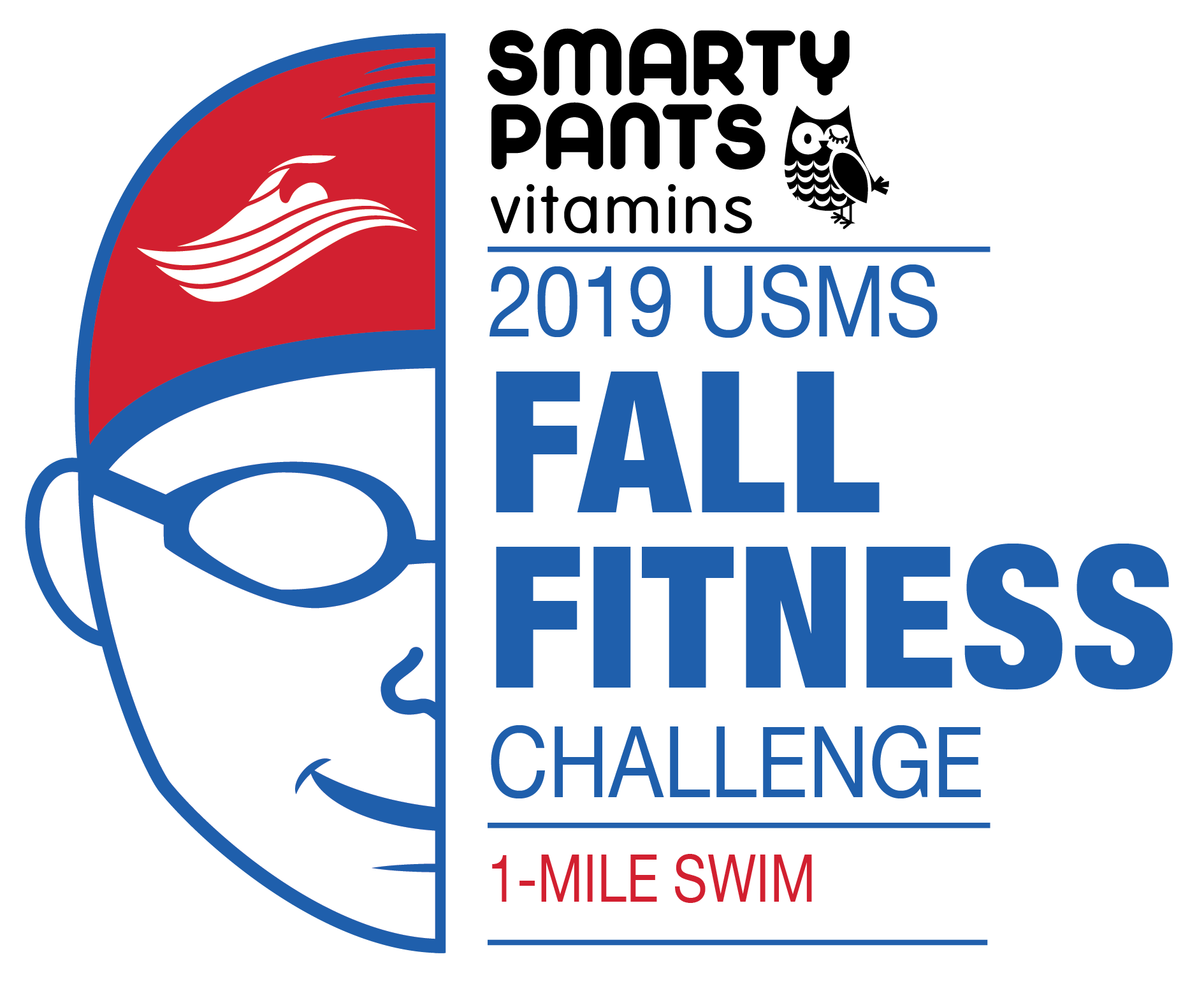 Fitness and Fun for a Great Cause
If your local USMS club is hosting a Fitness Challenge, you'll have fun training for and completing the Challenge together, getting motivation from each other and your coach. If you swim on your own, you can still join a group for the Challenge! Invite your family, friends, and coworkers to join you—keep each other on task and have fun while getting fit.

Swimmers will receive exclusive discounts from our partners, sample packs from SmartyPants Vitamins, a cool event swim cap, and they get to feel great that they donated to the USMS Swimming Saves Lives Foundation!
2019 Updates: Bundle Registration and Gold Caps
The window to sign up for the bundle registration has passed. However, if you signed up for the Winter Fitness Challenge and sign up for both the Summer Fitness Challenge and the Fall Fitness Challenge, then you can still receive the exclusive gold cap.
Training Plans
We provide six-week training plans—written by USMS-certified coaches—for all abilities.
Swimmer FAQs
Where can I find a Masters Swimming club that's participating?
If there isn't a Masters Swimming club in my area participating, can I swim it on my own?
Yes, you can swim the event on your own. Or, you can convince a friend or two to swim with you and you'll all have a better day.
Can I wear paddles or fins during the swim?
Yes! For any of the Fitness Series swims, you can wear gear—you can wear every piece of swim gear in your net bag if you'd like. You can swim it all one stroke or—because more friends mean more fun—swim it as a relay with other swimmers.
How do I swim the Challenge as a relay?
Structure the relay anyway you like— by time, distance, stroke, skill level, etc. The only requirement is that all swimmers must be registered for the Challenge.
What's the scoop on the training plans?
The training plans contain six-week swim-workout programs to prepare you for the Fitness Challenge. The workouts are written by USMS-certified coaches and cater to three different skill levels. You'll receive a link to your training plan in the email receipt when you register. If you're having trouble seeing or downloading the training plan, contact
events@usmastersswimming.org
.
Where should I input my times after the swim?
The Fitness Series emphasis is on fun and fitness. How fast you swim or how many lengths you swim isn't recorded. However, to gauge your fitness levels from year to year, you can record it in your personal fitness logs or workout tracker as a reference point for next year's challenges.
How can I fundraise for the USMS Swimming Saves Lives Foundation or my team's charity?
Registration net proceeds from all three Challenges in the Fitness Series support the
USMS Swimming Saves Lives Foundation
. The
Winter Fitness Challenge
is also a fundraiser for SSLF. We have donation links set up—all you have to do is share the them with your family, friends, teammates, and social networks!
The
Summer Fitness Challenge
and
Fall Fitness Challenge
also have shareable donation links if you choose to fundraise for SSLF, but you can use those two events to fundraise for your favorite local charity instead, or for new lane lines for your pool, or for a teammate who could use the moola. It's up to you!
Does USMS host any other events in which I can participate?
What are the health benefits of swimming?
We're glad you asked! Swimming is a low-impact exercise that increases circulation, increases flexibility, and lowers blood pressure. Swimming also has mood-boosting benefits and improves sleep. Learn more about the
many health benefits of swimming
.
Coach FAQs
How can I host a Fitness Series event?
Sign up your club clicking on the "Host at your pool" button above or on the Winter, Summer, or Fall challenge pages. We also developed a guide with tips and suggestions for how to engage your current swimmers and potential new members for your club.
Can my swimmers wear equipment during the swim?
Yes, they can wear any equipment they want during the Fitness Series swims. The goal is to get people motivated to train for and complete the challenge with their teammates. Coaches are encouraged to get creative for their swimmers who might be intimidated by the challenge. Focus on individual and group achievement, rather than competition for the best time or most distance—there are no competitive rules.
How can I make this a fun event and get all my swimmers excited?
The Fitness Series events provide great team-building opportunities for coaches. Host the event during a scheduled practice and add a social event after the practice. Build relays with swimmers who don't normally swim together. You can even challenge another Masters program to see which club has the highest percentage of participation. Celebrate the accomplishments of your program and the individual swimmers with recognition or awards.
Can I see how many of my swimmers have signed up?
How do the Fitness Challenges fit with the ePostal National Championships?
The Fitness Challenges and the
ePostal National Championships
aren't mutually exclusive. Since these events overlap, coaches can run them simultaneously. Let your swimmers decide which event best suits them. Swimmers who are just getting started with Masters Swimming or have never participated in a USMS event might choose the fitness-oriented event. Experienced and competitive swimmers might prefer the ePostal National Championship. Some swimmers might decide to swim both. Schedule these events to suit your club's needs and goals.
Can my club fundraise for a local charity on top of the USMS Swimming Saves Lives Foundation?
Registration net proceeds from all three Challenges in the Fitness Series support the
USMS Swimming Saves Lives Foundation
. If your club would like to set up an additional fundraiser for a local charity, you can do so through a separate fundraising platform.