Wow: Pacific Masters is 10,000 Strong
It takes
Pacific Masters has exceeded 10,000 members in 2008 and continues to grow. Nancy Ridout, USMS past president and Pacific registrar, and Michael Moore, Pacific chair, attribute the success of this LMSC to a strong commitment to high quality programs, good communication, empowerment of coaches and athletes, and a sense of togetherness.
"Even though we are big, we try to reach out to each member and instill a sense of pride in belonging to Pacific Masters Swimming and to their club," says Nancy. "The LMSC sets guidelines, coordinates schedules and welcomes ideas. It doesn't matter where the good ideas come from, as long as they keep coming."
Pacific Masters has monthly meetings. It invites everyone to be involved. "We encourage all clubs to share in the governance of the LMSC," Nancy says. Communication plays a key role in the daily operations and success of the largest LMSC in USMS. Weekly email announcements and updates communicate internal news as well as coaching opportunities, meets and other items of interest. The Pacific Masters website and bimonthly newsletter is updated daily and also provides valuable information to Pacific Masters.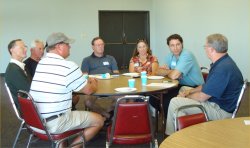 "The bimonthly newsletter, which is sent electronically to each club and is included in USMS Swimmer magazine, has become a staple for Pacific Masters swimmers," says Michael. Community involvement and communication also play a large role in the promotion of the LMSC and local Masters programs. Nancy explains, "Our members take it upon themselves to provide local media with stories of our swimmers and meets. Each member really takes pride in sharing information about his or her club with the local community, colleagues and friends."
In Pacific Masters, each club works together to promote Masters swimming. "Pacific Masters clubs have been known to say, 'sure try out that other practice and try ours ... whichever is a better fit is where you should swim,'" Nancy shares. "This way clubs are not competing, but collaborating. It makes our LMSC that much stronger. The Pacific LMSC is blessed with good weather, a strong swimming history and tradition, and a long line of forward-thinking leaders. This has allowed mutual cooperation with the Pacific LMSC officials and coaches."
According to Michael, "coaches who are excited about coaching are the key." Good coaching plays such a key role in the success of Pacific Masters that the implementation of a coach-mentoring program is part of the Pacific Masters strategy for continuing growth and success. "I am in awe of coaches like Patty Scott-Baier, Kerry O'Brien, Tim Sheeper and Tim Edmonds. To look at where their programs started to where they are today ... wow," says Michael, who attributes his own success in the water to good coaching. Walnut Creek Masters and Tuolumne County Masters are both on the verge of breaking 500 members, with 496 and 482 members, respectively. Team Sheeper in Menlo Park, Stanford Masters and the Olympic Club in San Francisco are all 300+ members Masters programs themselves.
Barry Fasbender, USMS member since 1973 and 2008 Ransom Arthur Award recipient, volunteers with Pacific Masters. Barry swims the 200 butterfly, 400 IM and distance freestyle events and when asked why he thinks Pacific Masters is so successful and ever-growing, he said, "Good coaches. The strength of a good LMSC is its coaches. With good coaching and sense of team pride you will have a strong LMSC."
So how does Pacific Masters manage over 10,000 members? "Lots and lots of volunteers," according to Barry.
No program or LMSC is perfect and without fault; however, with a solid infrastructure, big goals and determination to succeed every LMSC can reach its potential.
USMS congratulates Pacific Masters on its terrific membership success.
---