USMS Making the Transition to Sarasota
New location a good fit for USMS
Today U.S. Masters Swimming will be closing its doors in Charlotte, N.C. In February of this year we announced that we would be establishing our new headquarters in Sarasota, Fla. The decision came after months of discussion, analysis, presentations, information gathering and other research. The City of Sarasota, with the help of its community members, civic leaders and volunteers, won the bid for our new headquarters because of their collective warm welcome, offer of assistance with the relocation and securing of office space, offer to use both the local facilities and beaches, and understanding and support of the mission and goals of U.S. Masters Swimming.
U.S. Masters Swimming opened the Charlotte office in July 2008 with the help of local donations and community members, including U.S. Masters Swimming Board of Directors member Jerry Clark. The Charlotte office served as the primary office for our Executive Director, Rob Butcher, and Marketing Coordinator, Ashley Gangloff. The Charlotte office has served U.S. Masters Swimming well and we appreciate the support we have received from the local community during our time here.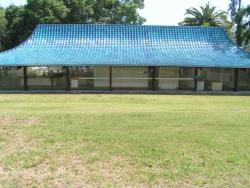 U.S. Masters Swimming will be in a state of transition until the renovations of the new headquarters are completed. Our new national offices will be located in the historic Pagoda building, near downtown Sarasota. This unique building will house our executive staff and the majority of our support staff, and serve as a base of operations for U.S. Masters Swimming for years to come.
During the transition, U.S. Masters Swimming staff is committed to updating you on its progress. All of us will be doing our best to maintain business as usual while getting settled in our new offices. The evolution from a volunteer-based organization to a professional staff-driven organization has been a topic of conversation for years. Under the direction of our Executive Director, Rob Butcher, and President, Rob Copeland, we have put our wheels in motion.
Going forward, you may continue to contact U.S. Masters Swimming by emailing us at usms@usms.org or calling us at 1-800-550-7946. Our new physical address is below:
U.S. Masters Swimming
655 North Tamiami Trail
Sarasota, FL 34236
Please note other contact information changes on the CONTACT US tab at www.usms.org.
---