A creative solution thanks to some high school swimmers
When Academy Masters Swim Team struggled to find a coach, it looked to the local high school for some assistance. No, it wasn't the high school coach who came to the rescue; it was the high school swimmers who prevailed as this team's heroes. "Academy Masters Swim Team (AMST) officially received its not-for-profit designation letter in February of 2007. That first year we hired professional coaches but we operated at a deficit. In the spring of 2008 we hired two high school swim team students to be on deck and run workouts. Last year, we had a small surplus," said Cindy Morse, AMST member.
AMST is in a small community located on the Big Island of Hawaii and has roughly 20 to 30 Masters swimmers.
An unlikely solution to a common problem among Masters teams is not only helping the Masters program to stay afloat financially, but it is providing hands-on experience for future USMS Coaches of the Year. When AMST initially saw its financial losses, it began writing numerous grant applications, which only created exhausted volunteers and headaches. When the grants fell through, the Masters swimmers "turned to the lifeguards that were already on deck for the Masters workouts," recalled Cindy. She continued, "The students already had jobs as lifeguards at the high school pool facility," and they soon transitioned into the role of coach.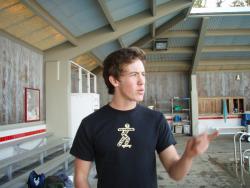 "The biggest challenge that we face in a small community is finding experienced adult coaches who are willing to work for limited pay so early in the morning," Cindy shared as she explained her experience. When AMST knew that it had to find a way to meet the needs of its swimmers while maintaining a sound financial plan, AMST approached the high school swimmers. Cindy shared, "We started on a trial basis with a couple of them coming in together to coach. This gave them some support and helped them to run two sides of the pool. After a few weeks, the boys split up the week, alternating Monday/Wednesday/Friday and Tuesday/Thursday. This schedule seemed to work best for them, as it allowed them to make more money for each work day and also afforded them some much needed sleep."
AMST has experienced sustained membership since implementing their creative solution to their coaching problem. Cindy and AMST also see the value in providing coaching experience to young coaches. "Offering a venue to promote more coaches will certainly benefit the swimming community at large. I think it gives the students valuable experience ... sometimes teaching is a great way to learn," exclaimed Cindy.
Other programs often pull in unlikely coaches to assist in the operation of a workout. Olympic coach David Marsh shared similar insight into recruiting volunteer assistant coaches. "An assistant coach doesn't need technical knowledge to be helpful. A coach's child, a high school swimmer or even other Masters swimmers can volunteer to take times, explain the meaning of terminology or read the workout off of the white board for the athletes in the water."
AMST's success since installing their high school coaching program is not only seen in the financials, but also on the pool deck. "It helps boost their confidence and the extra income is nice, too," Cindy said, referring to the benefits of the program for the high school students. The Masters swimmers also benefit from the program; the enthusiasm and enjoyment these young coaches bring to the pool deck is sure to heighten the level of fun at the pool.
Click here to read more about David Marsh's advice to Masters Coaches.
---