There Is Nothing Like the Open Water
So many options to enjoy the freedom
Open water events provide freedom, fun and a challenge to all kinds of Masters swimmers. Why join a local Masters program and why join USMS? U.S. Masters Swimming offers events around the country that are perfect for fitness swimmers, triathletes and competitive swimmers alike.
What is an open water event? An open water event is any swimming event that takes place in a lake, a river, an ocean, a quarry or any other body of water other than a pool. "A pool doesn't compare to the open water," according to Mark Gill of Kentucky Masters Swimming. "Open water is free of the restrictions of lane lines and walls, pace clocks and scoreboards. There is a certain enjoyment that is found in open water events that is different from pool events."
The concept of open water swimming can seem daunting, so how does someone get started? "If you are at the beach and decide to swim out to the first buoy and back, you have just completed an open water swim," says Mark. Open water events are often coupled with iconic distances, locations and landmarks: a swim around Manhattan, the English Channel or around Key West. Many open water swimmers set completion goals rather than goals measured in time standards, much like running a marathon. "People understand when I tell them that I completed the Alcatraz swim," says Mark, who completed the swim last year. "They know what that distance is, they can visualize the conditions; they do not care how fast I swam it."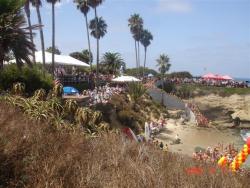 As open water challenges continue to grow in popularity, Mark hopes to see more open water clinics and educational material to help bridge the gap between pool swimming and open water swimming. "Most open water swimmers train primarily in the pool," says Mark. He believes that any swimmer has the capability to swim in an open water event. "Swimmers must learn to be comfortable in the open water. We are all used to the black lines at the bottom of the pool and the pace clock on the wall, but if we can help teach swimmers to be comfortable in the open water, open water events will see a tremendous amount of growth," continues Mark. "Open water is a perfect fit for fitness swimmers. It provides a specific, recognizable goal, and to some is considered less intimidating than a pool event."
Open water events can host thousands of athletes at one time. As a successful open water event coordinator, Mark says, "I can run one event for a thousand athletes and be finished and socializing in two hours. Open water events are fun because everyone starts together and everyone sticks around after the event to enjoy the location and their fellow swimmers." Open water events allow many participants to swim together, creating a challenging but fun atmosphere.
U.S. Masters Swimming hosts five open water championships and sanctions countless events every year. For more information regarding U.S. Masters Swimming open water championships visit http://www.usms.org/comp/ldcalendar.php.
---