USMS Inaugural 25K Championship A Big Success
You asked for it and you got it!
For the past three years, several USMS swimmers have asked for a 25K open water event. This year, they finally got their wish and 45 solo swimmers signed up for this inaugural event. Twenty-six five-person relay teams (five swimmers, each swimming 5K), totaling 130 swimmers, rounded out the mix.

The race was held at Morse Reservoir in Noblesville, Ind., on July 19th and was hosted by Noblesville Adult Swim Team (NASTI) and by Friends of Central Pool. The course was five laps of a 5K loop that had to be completed within 10 hours. Solo swimmers were required to have a paddler or kayaker accompany them throughout the race.

The winning time was 5:39.09 by Richard Kramer, 42, of Illinois Masters. The first female to complete the race was Kristina Ulveling, 35, of Georgia Masters, who swam the 25K in 6:25.25. The time for the final finisher was 10:24.05. Thirty-eight swimmers completed the race. The time for the first place relay was 5:56.31. Complete results are available below: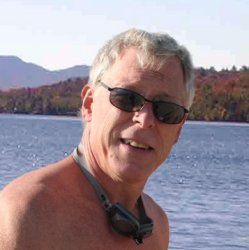 25K National Championship (overall)
25K National Championship (by age group)

25K Team Relay (overall)
25K Team Relay (by age group)
25K Team Relay Individual 5K's

The race director was Dick Sidner, who was assisted by the USMS Open Water and Long Distance Chair, Marcia Cleveland. Lisa Miller Sidner and Raena Latina applied for a "sports marketing" grant and were awarded $4000 by the Hamilton County Convention & Visitors Bureau which helped make this event a great success.

Tim Waid, a solo swimmer, had the following comment when asked for suggestions:
"Dick and Marcia,

You two deserve high praise for your efforts this past year, especially over the weekend. The 25K race was conducted EXTRAORDINARILY well. Essentially, I have no critical feedback to improve the race, simply praise for how well the race was conducted!"
---
Categories:
Open Water
Events
About USMS