In Memoriam
Ruth Hoskinson
December 13, 1929 – November 24, 2020
By Barbara McNulty
Ruth Hoskinson, who passed in 2020 at age 90, was unafraid of adventure. She never saw a record that she didn't try to achieve or a challenge that she did not try to surmount. It was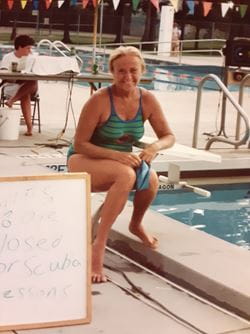 late in life when she learned the probable source of her dauntless spirit.
When Ruth was 52 years old, she joined a Masters swim team in Clearwater, Florida. The Clearwater-Largo Y had just launched the team under the direction of Coach Joe Biondi. Though Ruth knew how to swim, she had not done much beyond fitness training. Within four years, however, she competed in her first USMS Nationals and never looked back. In 1987, she placed in the FINA World Masters Top Ten in the 200 SCM Butterfly and the 400 SCM IM. She did likewise in the USMS rankings, adding the 200 LCM Butterfly and the 400 LCM IM.
What makes Ruth so extraordinary is not simply that she found her swimming competitive edge in mid-life but that she was already a champion in another sport, horseback riding. The first half of Ruth's life was all about horses. As a child, she learned to ride at a large stable near Boston, MA. By age 16 she was stable manager for a summer camp, had two assistants, and was responsible for 20 horses. She soon launched her career as an esteemed equestrian and riding instructor. Ruth showed horses for the likes of the owner of J.C. Penney and competed in prestigious riding events at Madison Square Garden. She trained the top horse in the Northeast, U.S. Ruth ran her own stable in Pinellas County, FL for many years. She also trained aspiring Olympic equestrians at various stables throughout the county, including Randolph Farms in Largo, FL, where many champion horses are stabled during the winter months.
Ruth started judging horseshows in 1961 and became so proficient that she was invited to judge world class competitions. She designed equestrian courses, coordinated events, and officiated smooth-running shows. From 1961 to 1980, Ruth was the Chief Riding Instructor for the Clearwater Pony Club, an affiliate of the United States Pony Clubs Inc. (the swimming equivalent of USA Swimming). Ruth's long-term equine contributions to the United States Pony Clubs Inc. earned her the honorary title of 'National Instruction Legend.'
The year 1980 was a watershed for Ruth when she met her husband, Lawrence (Larry) Lindner, and began cross-country running with him. She soon added competitive swimming and bicycling to her repertoire. She competed in half-triathlons, and in the 200 butterfly and the 400 IM at local meets, unafraid to take on these difficult events.
From 1993 to 2013, Ruth swam for the Florida Maverick Masters, founded by the late Dr. Paul Hutinger. She continued to train at the Clearwater Y and during the last seven years of her life she swam under the direction of Coach Pam Owens. Ruth would often inspire other swimmers on the Y team and give them advice about their strokes.
Ruth's lifetime swimming accomplishments include placements in 20 FINA World Masters Top Ten (SCM & LCM) events from 1987 to 2011. These include the 50, 100 and 200 Butterfly, the 200 and 400 IM, and the 800 and 1500 Freestyle. She had 124 individual USMS Top Ten awards which she achieved almost every year from 1987 to 2013. Her relay records were also remarkable: 2 Relay FINA Top Ten listings, 6 Relay All-American listings, 24 USMS Top Ten Relay swims, and one USMS Relay record.
Ruth lived every day to the fullest. With Larry, she managed a real estate business and competed in running events. Besides her numerous swimming accomplishments, she took up everything from fencing to belly-dancing, golf and throwing a javelin. When Ruth finally slowed down, she took sculpture classes in her 80's, and her artwork was exhibited at the Dunedin Fine Arts Center. A polymath athlete who loved to cook and to entertain, Ruth was a true inspiration to her friends and competitors. She never hesitated to share her words of wisdom with those of us who had the good fortune of knowing her.
Ruth was almost 90 years old when she discovered that her Lithuanian mother was aboard the RMS Lusitania in 1911. An unaccompanied teenager, Ruth's mother was fleeing to the United States to join her father in Oklahoma. Four years later, a German U-boat torpedoed the Lusitania at a cost of over one thousand lives.
Ruth is survived by her husband, Lawrence Lindner, of Clearwater.
---