Profiling Charles Baldwin
Enjoys Masters and Senior Games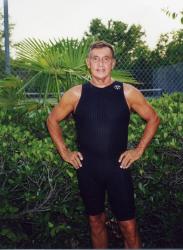 Charles (Chuck) Coleman Baldwin was born and raised in Buffalo, N.Y. His father taught him to swim in the Niagara River when he was five years old. His first competition was in the summer recreation program at the age of 11.
He swam competitively in high school and was captain of the Kensington High School swim team in 1948. He attained every city and high school record with the exception of backstroke.
He graduated from Michigan State University and was captain of the swim team in his senior year. He was named to the NCAA All-American Team three times. His most memorable swimming experience was in relays in both high school and college.
Chuck first became involved in Masters in Tucson, Ariz., in 1986 or 87. His most memorable Masters swims were in national competitions when the pressure was the greatest. In 2000 he had 17 of the fastest swims in the world in the 70-74 age group and earned seven world records.
He participates in Masters for the following reasons: 1. Social, 2. Conditioning and quality of life, and 3. Love of competition. "I compete in approximately 10 local meets per year and 1-2 National meets," he said. He also competes in the National Senior Games on a regular basis and has won 30 gold medals and set 23 National Senior Games records. In 1955 and '56 he was the World Wide Air Force champion in the 100 freestyle.
Chuck trained on his own until the year 2000 when he joined TEAM MOST and then trained under the coaching of Susan Ingraham. Competing for Team Texas at the 2000 USMS Long Course Championships he won five events in the 70-74 age group setting a world record in the 100 meter free with a time of 1:08.27 and a USMS record in the 100 meter breaststroke with a time of 1:33.04. At the USMS Short Course Nationals in 2001 he set another USMS record in the 100 yard free with a time of 1:00.06 and with teammates Graham Johnston, Bob Bailie and Eugene Ferguson, Chuck set records in both 65+ relays, clocking a 2:04.32 in the 200 medley and a 1:46.65 in the 200 free. That same year at the National Senior Games in Baton Rouge, Chuck set another USMS record in the 100 yard breaststroke with a time of 1:19.92. "My goal is the continue in Masters as long as possible," he said.
He currently trains short workouts,1500-2000 meters, 4-5 days per week. He tries to balance his workout to include swimming, kicking,and pulling as well as spending time on all four strokes. Other activities include walking and racket ball. Chuck said, "My motivation to swim year after year is looking forward to seeing the friends I have made over time and my love for competition."
In 1986 he married Dianne, a non-swimmer who wholeheartedly supports his involvement in swimming and was instrumental in getting him involved in Masters and the Senior Games.
He has four adult children from a previous marriage. Eldest son Chuck was an Arizona State Champion in tennis while in high school. Now he is into racket ball and baseball. Eldest daughter Yvonne is a distance cyclist and runner. She participated in Cycle Oregon in September of 2002. All children swim for pleasure and fitness.
Chuck is a retired USAF officer. His other hobbies are music and cars.
---