Meet GTD Swimmer Paul 'Tank' McNamara
Embracing swimming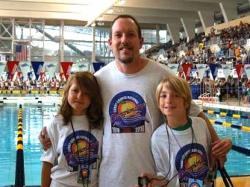 When asked: "why did you start swimming?" Paul McNamara answers: "My mother thought it would be good exercise when I was age 10." He swam competitively in high school and all four years in college on a scholarship. "After college, I swam Masters briefly but quit for 20 years to do the family thing until about 2.5 years ago."
McNamara works for Roane State Community College near Knoxville, Tenn. on the professional staff and as adjunct faculty. He teaches world religions and swimming. He actually lives in Canton, Ga., which is three hours away from Knoxville, so he stays on campus during the week. He reads and studies theology and enjoys that along with swimming. He also likes fishing with his youngest son and swimming with his daughter. He and his wife have four children, including three adopted from the Ukraine.
McNamara likes to compete. "My wife calls me a fierce competitor. I swam at SC Nationals at Georgia Tech in 2010 and several SCM meets this past fall. I also plan on LC Nationals at Auburn in August."
When he first started swimming Masters, he felt it was a bit self-centered but he has since changed that attitude. His daughter swims because of him, his niece is just starting to train. Several of his friends have started some sort of exercise because of his example of swimming. McNamara also coaches his daughter and his niece. And sometimes other swimmers join the workout. He swims five times a week, with his workouts ranging from 3K to 5K per practice.
He often swims alone, due to the nature of his work travels and schedule, but he does enjoy training with the University of Tennessee Masters team and Swim Atlanta, where his daughter also swims, as much as he is able to.
In college McNamara was a pure freestyle sprinter, 50, 100, 200. He has since changed to distance freestyle and he has competed in the 1500 meter and 800 meter. He also enjoys breaststroke and butterfly sprints.
McNamara participates in GTD because he enjoys tracking how much he swims. He finds that very rewarding. His advice to other GTD participants would be to continue GTD (It is free with USMS membership), as it is very rewarding to track and see all the mileage one will accumulate. Also, order the shirt, which is a great conversation piece. His goal for 2011? "I'm just under the target of 450 miles for the year but I hope to hit 500 miles."
McNamara received the nickname Tank because of the comic strip "Tank McNamara," from the 1970s. A fellow swimmer was making fun of him and as he was doing breaststroke—yelling "Tank" as his head was popping out of the water. The nickname has stuck with him for over 30 years now.
When asked what his friends would say about him, he responds: "they would likely say that I am a fierce competitor and I am passionate about swimming and its many benefits. Also I'm generally a very loyal person and passionate about theology and respect for all persons of different faiths and cultures."
---