Meet GTD Swimmer Danielle Aanenson
Motivation for swimming solo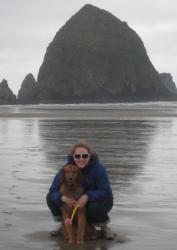 Danielle Aanenson is a business data analyst for the Registrar & Financial Aid Office at Oregon Health & Science University. To Aanenson, swimming is an integral part of her life and well being. Swimming helps her maintain a healthy lifestyle both physically and mentally. "It is my best stress reliever. At the end of a long and/or stressful day, I love nothing more than immersing myself in the pool," she says. All of her good friends know that swimming comes first (usually) especially during the workweek.
 Aanenson swims at least five days a week for one and a half to two hours, typically 4,000 - 5,000 yards. Her schedule doesn't allow her to swim with a group, however, she enjoys swimming alone because it allows her to take her time if she needs to. Freestyle is her favorite stroke. She loves distance swimming. The mile is her all-time favorite event. She also enjoys 200 IM because of the variety.
Aanenson has been swimming for 16 years. Once she got over her fear of water, she spent every day she could during the summer at the local beach with her big brother and two friends.
Then when she was 11 her family went to a Dude Ranch in South Dakota for vacation. Aanenson found herself spending every moment her parents would allow at the pool. "I met a girl a few years older than I was and this girl was on a swim team. She was doing laps in this little recreational pool and I looked at her and thought: "I want to be that kind of swimmer." I didn't really know what a competitive swimmer was when I saw that girl. Shortly after that vacation, my mom took me for tryouts at the local swim team and I've been swimming ever since," she says.
Currently, Aanenson does not compete in pool meets but she does participate in the online challenges. Her goal is to be back to competing by January 2011.
Aanenson has no human kids, just furry ones: a dog, Ruby Sue and two cats Gracie and Belle. She has a very busy life between work, swimming, and trying to have a social life. She does not do a lot of projects but she has lots of ideas for projects she would like to do someday, like learning to make her own paper and use old clothing to make rugs.
Aanenson participates in Go the Distance for motivation. She likes logging her progress for each swim and see how far she has come over the weeks, months, year. "It's fun to see how far others have swum this year and gives me motivation to swim that extra mile," she says.
Her advice for others who participate: "Make sure to have fun swimming - don't get too serious about trying to make a goal or you will find yourself not enjoying swimming as much. I've made this mistake."
Aanenson's favorite swim story is about the one and only time her Uncle and Grandma got to see her swim in a meet, which was in high school. She was anchoring the 4 x 100 freestyle relay - the last event of the meet. Her relay team was behind by about half a length when she dove in. She ended up catching up to the first place team and winning the relay. "I was so proud of myself for helping my team win but the best part was that my Uncle and Grandma got to not only see me swim but see a proud swimming moment for me and my team."
---