When Masters swimmer Kami Larripa first decided to move to Humboldt County, she was sorry to be leaving her teammates and the camaraderie of the Davis Aquatic Masters, a swim team boasting hundreds of members and the use of several pools. After asking her friend and Humboldt resident Emily Evans what Humboldt had to offer aquatically, Evans replied, "The Humboldt Masters swim team has between three and twelve people, but you can always swim in the lagoons," referring to Northern California's coastal brackish lakes separated from the Pacific Ocean by sand dunes.
Evans has been a member of the self-titled "Lagoonatics" for years and, along with Stephanie Stone, is one of the original organizers of a unique annual swim-hike-swim event.
Sunday, August 16, marked the fourth year of this quintessential Humboldt County affair. Since its inception, nobody has been charged an entry fee, other than paying a modest parking fee at the state park, taken home a T-shirt or prize, or even known ahead of time what level of aid or support to expect. The event has been entirely dependent upon how many friends and family members participants can coerce into coming along. There are no sponsors hanging banners, providing food or SWAG, and there's no starting whistle or stopwatch.
You won't find a web page featuring the event by Googling "Lagoonatics." To get electronically connected to this group you need to know someone who knows someone. In fact, this annual swim doesn't even have an official name, though participants have dubbed it "The Big Stone Challenge – Between a Rock and a Hard Place." The unofficial moniker not only references the two lagoons traversed in the swim, but is also a nod to Stephanie Stone, an original and perennial organizer of this event and a die-hard swimmer known for enjoying the far-Northern California lagoons year-round, sans wetsuit.
This year's eclectic group of swimmers included two Humboldt State University professors (a specialist in Latin American history and a mathematical biologist), a certified nurse midwife, a yoga instructor, a visiting Portuguese scholar working on a postdoctoral in chemistry, and a Ph.D. candidate in education.
The night before the swim, several members of the group met at Stone Lagoon and paddled kayaks across the glassy water. They stashed the kayaks in the shoreline vegetation, so the next day after the swim they could shuttle hikers and gear back to the Stone Lagoon parking lot.
The event commenced Sunday morning at Big Lagoon State Park. After a quick discussion about shuttles, vehicles were staged at each end of the swim, three lagoons and several highway miles apart. The first wave of swimmers included Stephanie Stone, Micki Lewis and Suzanne Pasztor. They were the sole figures on the calm water as the sun crested the hills to the east. A half hour later, Emily Evans, Isabel Faria and Kami Larripa waded into the water while seven support hikers, a baby and two exuberant dogs began their trek north.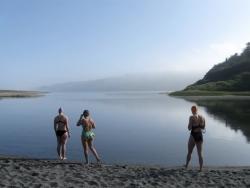 The swim began organically as participants simply started swimming. As early morning wisps of fog cleared, swimmers made their way north across Big Lagoon and hikers traversed the barrier beach between the Pacific Ocean and Big Lagoon. Although the Pacific breaches this beach in the winter or at extreme high tides, on this lazy summer morning it was wide and afforded views of both the ocean and the lagoon.
Swimmers and hikers convened after approximately 3 miles at the northern end of Big Lagoon. Evans, an accomplished open water swimmer with a 2008 Catalina Channel crossing and a 2009 Trans Tahoe Relay solo swim under her belt, was the first to exit at the north end of Big Lagoon.
After eating and relaxing in the warm sand, the group set off to hike a few more miles to the next input at Stone Lagoon. The route followed the beach, offering views of sea stacks and crashing waves. On this particular day creative bushwhacking was required to navigate safely beyond a narrow strand of beach during high tide. All the participants accepted the alternate route with aplomb, whether human or canine, swimmer or hiker, adult or baby. The detour served as an indisputable reminder that the north coast is truly wild and rugged; the ocean should always be respected. Even on relatively calm days, sneaker waves can strike without warning, and rising tides make it easier to be caught off guard.
Leaving the beach and continuing to move north at a higher elevation kept everyone safe, stress-free, and provided no significant inconvenience. The group continued north to Dry Lagoon where the trail turned inland and climbed through a fern and thimbleberry-filled forest. Upon reaching Stone Lagoon, the swimmers re-entered the water to make the final crossing. Some of the hikers continued walking to the north end of the lagoon along a scenic, isolated beach, while the others jumped into the kayaks they had stashed the night before and paddled across the water.
After retrieving participants from two different endpoints, the group returned to Big Lagoon, unpacked ice chests and enjoyed a late afternoon picnic. Stephanie Stone is not only known for organizing this event, but also for her pies. This year's offering was a plum and goat cheese pie, which was reason enough to participate.
The Big Stone Challenge is characteristic of Humboldt County. It is organized in a relaxed, low-key manner, held in a magnificently wild setting with unexpected surprises, and enjoyed in the company of cheerful, capable individuals.
"The lagoons are such a special place - no water tastes or feels quite like it - that brackish slightly fishy taste just make me salivate with joy - I love it!" says Emily Evans.
Getting There: The Humboldt County Lagoons are located approximately 40 miles north of Eureka and 55 miles south of Crescent City, CA on Highway 101. The area has a wide variety of year-round outdoor recreation activities available (e.g., hiking trails, fishing, boating, camping, birding) with miles of beach access.
For information about next year's Big Stone Challenge, contact Kami Larripa at kamila.larripa@gmail.com.
---