Two-Mile Cable Swimmers on the Straight and Narrow
Records fall at 2010 Chris Greene Lake swim
What happens in Virginia doesn't always stay in Virginia, especially what happened at the U.S. Masters Two-Mile Cable Open Water National Championship at Chris Green Lake in Charlottesville where four national records were broken and three major milestones were achieved.
The 34th annual event hosted by Virginia Masters Swim Team seemed to have its mojo working when Christopher LaBianco broke the 40-minute mark by a hundredth of a second, breaking the national record for men in the 35-39 age group. The 39-year-old swimmer from Colorado said he had exceeded his own expectations. "Cable races are the only open water races with records, and I had my eye on the two-mile record for a while. The lake, the course, my fellow swimmers, and the race directors set the stage for a great day of racing," says LaBianco, a former distance swimmer at Auburn University and captain of the team in 1991 and 1992.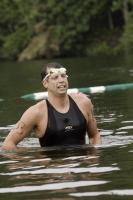 By coming in at 39:59.99, LeBianco also became the oldest swimmer to break the 40-minute mark and the youngest to match his age with his time for the two-mile swim. LaBianco has also claimed national championship titles this year in the One-Mile Open Water Championships in North Carolina and the 3-6 Mile (6K) Open Water Championships in Colorado.
Calvin Barnes, 86, and Richard Selden, 88, also made waves at the event. Barnes finished first with a time of 1:26:27.21 and Selden came in right behind at 1:27:32.40. The two men earned the distinction of becoming the only two Americans in the 85 – 89 age group known to have raced in a two-mile cable swim. They met for the first time at the awards ceremony, where they shook hands while being recognized for their achievements.
Other notable swims include defending champion, Virginia swimmer Abby Nunn, 20, who came in second overall and broke her own national record (women 18-24) by 32 seconds with a 40:07:05.
Eney Jones, 49, broke the previous record in her age group with a time of 43:04.92. Larry Wood, 56, broke the national record in his age group clocking in at 43:40.61. Although not a new record, Shirley Loftus-Charley, 58, who was competing in her 29th consecutive year at Chris Greene Lake, matched her time of 46:37.00 from 1990, and captured the national title in her age group.
In cable swims, participants swim beside a rope stretched along the water, usually supported by small buoys. In this case the rope is stretched between two permanent wooden pylons, which have been surveyed and are within an inch of a perfect quarter mile. The two-mile cable race at Chris Greene Lake has been taking place on the second Saturday in July since 1977 and is one of the longest-running open water events in the country. The one and two-mile distances are the only open water events in which USMS maintains national records. The fastest two-mile cable swim ever recorded in a USMS sanctioned race is held by James Kegley who achieved a time of 38:32 in July 1988.
photos by Katharyn Tupitza
---