Fitness Programs that Motivate
Get in the water and go the distance
Do you have what it takes to go the distance?
Mary Sweat, a US Masters Swimming volunteer and Fitness Committee member goes the distance each and every month.
Do you ever wonder exactly how much you swim?
Go the Distance was designed to answer that very question. With volunteers such as Mary Sweat and Marcia Anziano working behind the scenes, US Masters Swimming provides you with tracking tools to chart exactly how much you swim in a given month and year. "Everyone has a goal and we're here to help them," says Mary.
Why join a local Masters program and why join USMS? Even if you choose not to compete, US Masters Swimming has fitness programs that will help you stay on track, set goals, and measure your progress. Go the Distance and other fitness programs are free programs for members.
"Our program provides accountability, often times people say to me, 'Go the Distance helped me get to the pool this week,'" Mary shared. Only roughly 25% of members compete in pool or open water events, but programs like Go the Distance are designed for everyone.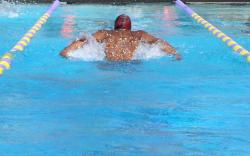 Joel Brown of Santa Rosa Masters started swimming two years ago with his wife and signed up for Go the Distance for motivation. Joel, 57 and a mechanical engineer, said, "at first we were happy to make it from one end of the pool to the other." After a few swimming lessons and participating in programs such as Go the Distance Joel has hit the 100-mile benchmark and is still swimming. "I've done sports all my life and this is the best exercise without hurting or deterioration of the body," said Joel.
"We recognize many milestones," Mary said who will reach her 500th mile during the 2009 USMS Long Course National Championships. "Our milestones start at 50 miles and go to 1,500 miles, and there are people in each category." So why do people participate? "You get monthly feedback, you get a report on your progress, you can share your goals with other participants, and it helps you continue to set goals," according to Mary. Darcy Lafountain, 53, does not like to compete but uses the Go the Distance to keep her going. She says, "GTD is a friendly competition with the right amount of pressure. Many days I consider taking a day off, but I know that somewhere in the US, one of the GTD participants is swimming-it is highly motivating!"
Mary is the key ingredient to the success of the program and her passion for fitness traces back to her childhood. "When I was 8 years old, I completed the American Red Cross swim lesson program. I got the lifeguards signature as approval that I had completed the requirements, and I got a certificate for my accomplishment. I still have that certificate. I guess I like to see my progress. I like to chart where I've been, where I'm at, and where I'm headed and that's what Go the Distance does."
Mary is a dedicated volunteer and spends close to 40 hours per month working on the Go the Distance program. "Mary is amazing! Her enthusiasm is inspiring and her genuine interest and kindness toward her GTD participants is deeply appreciated," said Darcy. Darcy, who trains at Aqua Crest in Delray Beach, Fla., will participate in Go the Distance again in 2009 and hopes to swim over 1,500 miles.
Go the Distance evolved out of a previous fitness program called the "Geographic Virtual Series." When posed with the question, "How do we better serve our members?" the Fitness Committee developed Go the Distance. Now, more than 500-members participate in Go the Distance and it continues to grow.
Go the Distance is not the only fitness program that US Masters Swimming has to offer. The Check off Challenge is also available to help inspire Masters Swimmers to continue to try new events and set new goals.
---