Go The Distance (GTD)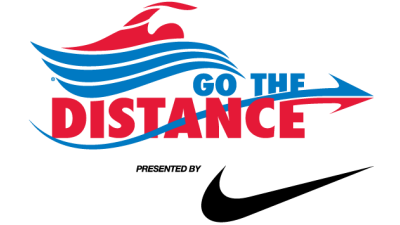 4,095 USMS Members swim more than

1.4 BILLION

yards in 2013
The annual Nike GTD program has become one of the most popular events offered by USMS. More than 4,000 members participated in this fitness event in 2013, logging more than 1.4 billion yards for the year (more than 800,000 miles). In 2012 we logged one billion meters and in 2011 we logged one billion yards. What's next?
Go the Distance in 2014
Nike GTD is a self-directed program intended to encourage Masters swimmers to regularly exercise and track their progress. There's no time limit for the distance milestones, except that they must be achieved in the calendar year. Speed doesn't count—just the effort to attain whatever goal you set for yourself.
Nike GTD is on the honor system—you track the distance you swim. Daily, weekly, or monthly, enter that information into your online Fitness Log (FLOG). When you achieve certain milestones, you'll be recognized on the U.S. Masters Swimming website and receive special prizes from Nike Swim, our title sponsor for the event.
There's no cost to enter Nike GTD. You can register through your FLOG in the My USMS section of the website. Your FLOG allows you to track all your fitness activities—such as running, biking, weight training, and yoga—while participating in Nike GTD. Track your weekly, monthly and annual totals online. Once you've entered Nike GTD, your results are automatically included in the daily summary reports, and your milestone awards are sent directly to you.
Illustrated, step-by-step instructions for setting up your FLOG and entering GTD
Awards and Merchandise
Nike Swim is partnering with All American Swim Supply to provide the milestone achievement awards. Please read the award notes below for important procedures governing the award program.
Milestone
Nike Swim Award
50 miles
Nike GTD swim cap
100 miles
150 miles
200 miles
250 miles
300 miles
365.25 miles
(average mile a day)
400 miles
500 miles
Nike swimsuit
750 miles
1000 miles
1250 miles
1500 miles
Award Notes
You must be a current USMS member to participate in the Nike GTD program.
The street address that was used during member registration will be the address your Nike swim cap and swimsuit are sent to. Updates to your registration address can be submitted here. Award merchandise will not be sent to addresses outside the US.
If you have reached any awards milestone, click on the awards graphic on the top left side of your FLOG to see the status of your cap or suit. When you've reached the 500-mile mark, a notification will appear in your FLOG. Just follow that link to specify size, color, and style of your swimsuit, which will then be sent to you.
The Nike GTD Program ends on December 31. You must have logged all your miles in your FLOG by January 10 in order to receive any of the awards.
All questions or concerns about the Nike GTD Program need to be sent by March 10 for the preceding year.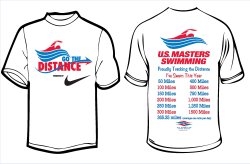 Official Go The Distance t-shirts can also be ordered from All American Swim Supply. Check off your milestone achievements on your t-shirt throughout the year as you swim through them.
Event Results
2014: daily results | T-Shirts
2013: daily results | T-Shirts
2012: daily results | T-Shirts
2011: daily results | T-Shirts
2010: daily results | T-Shirts
2009: monthly results
2008: monthly results
2007: monthly results


For more information, please contact the GTD support team at gtd@usms.org