U.S. Masters Swimming Articles & Videos

Presented by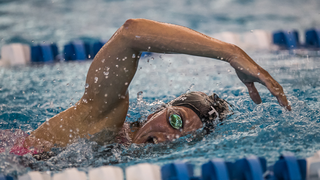 Technique and Training
Here are a few examples of effective discovery sets.
Technique and Training
The following will be a sort of mental guide to help you focus on what's important should you try some of these modern versions of the classics.
Technique and Training
One of the best tools out there, for everyone from a novice to an elite, is the snorkel. It helps you focus on one thing, encourages a pattern of movement, and helps you build skills.
Technique and Training
How can you tell if you're slipping? Slow down and pay attention.
Technique and Training
Has freestyle evolved to a point where we should follow elites who have strokes not previously considered perfect?
Technique and Training
It's exciting to constantly evolve with the sport, but you should ask yourself if adopting the newest technique is best for you.
Technique and Training
Every year, many swimmers focus on how many yards or meters they swim and the clock. But if you're looking to make some improvements over last year, it may be worth your while to forget the clock and the yardage and focus on improving your technique.

The USMS website contains articles about sports medicine, health, and nutrition. This information is not intended to be a substitute for professional or medical advice on personal health matters. For personal medical advice, or if you are concerned about a medical condition or injury, see your healthcare provider for evaluation and care. The USMS website also contains articles about swim training and technique, including drills and workouts. All swimmers should be evaluated by a healthcare professional prior to beginning swim training. In addition, consult with a trained coach when introducing new technique or drills to your swim training program.