U.S. Masters Swimming Articles & Videos

Presented by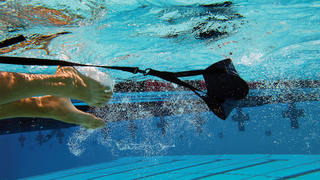 Technique and Training
If you don't have a coach helping you, start this set from whatever end necessary to get the best look at the pace clock for accurate sprint times. Be sure you've had a full warm-up prior to starting this high-intensity sprint set.
Most would agree that a pool full of Masters swimmers creating a thunderous roar of kicking and splashing is a very good thing. But can you have too much of it? The Master's workouts at the USAS...
You cannot armchair a football game on Saturday or Sunday without the commentators educating you on the importance of "success in the Red Zones" as a barometer for a team's success on the...
Technique and Training
This Free/Back Combo Drill is a drill that anyone can incorporate into their training. We've mentioned time and time again the importance of head position and body alignment and this drill focuses...
Technique and Training
This drill, provided by Kerry O'Brien was so popular in a newsletter distributed earlier this spring, that we have decided to post it for our entire membership. The drill focuses on hip rotation and suggests the "board wag" to ensure enough rotation of the hips.

The USMS website contains articles about sports medicine, health, and nutrition. This information is not intended to be a substitute for professional or medical advice on personal health matters. For personal medical advice, or if you are concerned about a medical condition or injury, see your healthcare provider for evaluation and care. The USMS website also contains articles about swim training and technique, including drills and workouts. All swimmers should be evaluated by a healthcare professional prior to beginning swim training. In addition, consult with a trained coach when introducing new technique or drills to your swim training program.